This article is more than 1 year old
Lauri Love's US extradition appeal judges reserve decision
Accused Brit hacker will have to wait to hear his fate
London's High Court has reserved judgment on the extradition of accused hacker Lauri Love after hearing this morning that his appeal should be granted because conditions in the US prisons he may be sent to are "unconscionable".
"For this particular appellant, going to MDC [the Metropolitan Detention Centre in Brooklyn, New York], there is a serious risk it will result in a serious health deterioration, or death," Love's barrister, Edward Fitzgerald QC, told the Lord Chief Justice of England and Wales, Lord Burnett of Maldon, and Mr Justice Ouseley.
Love sat in the same spot in the well of Court 4 as he had done yesterday, flanked once again by his parents and girlfriend and wearing his sombre, tieless suit. He was noticeably less tense than he was at the previous day's hearing. The light in the courtroom was almost natural as the low winter sun filtered in through the skylight.
Key to Love's appeal is the forum bar, formally known as section 83A of the Extradition Act 2003. This was introduced after the Gary McKinnon case, where an accused British hacker was eventually not extradited from the UK to the US.
This morning Fitzgerald drew heavily on the case of Haroon Aswat, an alleged jihadist who was extradited from the UK to America.
Aswat, a paranoid schizophrenic, was extradited in spite of pleading to the High Court that sending him abroad for trial would breach his rights under Article 3 of the Human Rights Act, namely that he would be subject to inhuman or degrading treatment.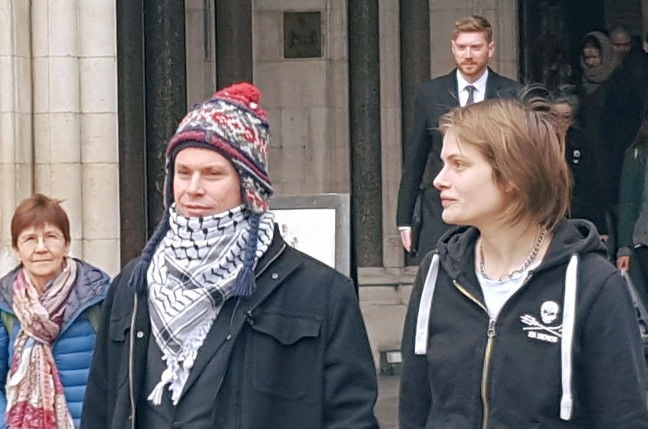 Love and girlfriend Sylvia Mann seen leaving the Royal Courts of Justice. Pic: Richard Priday for The Register
Advancing a similar argument, Fitzgerald told the court that the district judge who previously approved Love's extradition "failed to address the point that the mere fact of extradition to the US away from home, our style of environment, would almost inevitably create a serious deterioration in his health".
This, said Fitzgerald, continuing the previous day's theme, would result in Love being placed at an increased risk of suicide, particularly if he was separated from the support of his family.
"The district judge misdirected herself that the risk to his health was conjecture. He is fit now but anything could happen," thundered Fitzgerald, causing both judges to momentarily pause in their methodical note-taking.
"There's a high risk of suicide in MCC [New York's Metropolitan Correction Centre] and MDC," he added. "We submit he will be exposed to the 'unconscionable' conditions that the women's judges' report refers to," said Love's barrister, citing a report on conditions in those two prisons produced by American judges who inspected the women's half of each jail.
"There is a substantial ground for real risk that he will be subjected to Article 3 inhumanity" – Edward Fitzgerald QC, Lauri Love's barrister
Peter Caldwell, barrister for the Crown Prosecution Service and appearing on behalf of the US government, briefly responded to some points of law made by Fitzgerald, before the judges shuffled their papers and sat up. Earlier he had told the court that District Judge Tempia's decision to extradite Love was "not wrong".
The Lord Chief Justice announced he was reserving both verdict and full judgment to a later date and said he would "let the parties know in the usual way" when judgment was ready to be handed down. It is expected that this will take place in early 2018.
Outside court, Love's father, the Reverend Alexander Love, said: "To be born in this country is to win the lottery of life. We trust in the justice system, and in God." Love's solicitor, Kevin Kendridge, added: "We are happy with how things went, and we trust the judiciary."
Love himself said he was "glad" that people had taken an interest in his case. ®
The view from the public gallery
The public gallery in Court 4 of the Royal Courts of Justice this morning was barely a third full. But those present were all listening keenly to the final arguments.
Some were taking notes, typing on their phones or scribbling in notepads. Others were quietly discussing proceedings, but the most interesting person there, however, was a man I shall call "Sign Guy". He arrived a few minutes late, sporting a grey suit, dishevelled hair and a notebook. It was clearly not for reporting, however, as his pen was a thick board marker, rather than the standard-issue biro.
After scribbling for a moment, he propped up his notebook on the edge of the gallery, which bore the message "Trial at Home". When a spectator behind him leant over and informed him that this was not a wise course of action, Sign Guy wrote a new message, unseen by your reporter, which elicited a few giggles from those sat nearby.
An usher then walked over to Sign Guy and said a few words to him. His reply was quite gruff, like how one might speak to someone loudly rustling their popcorn in the cinema. The usher then fetched a member of security for backup, only to find Sign Guy had decided to have a lie down on the bench.
After some time, he sat up again and wrote Love's name on his knuckles. The security guard had by this point moved to sit beside Sign Guy, but he appeared unfazed as he continued to work on his body art.
Sign Guy finally ran out of patience when Mr Fitzgerald finished speaking. He sidled his way past the security guard and into the corridor beyond.
Richard Priday reports