This article is more than 1 year old
Oh, Nutanix, if you carry on like this you might actually creep into profit
Revenue up, losses down – that's how you do business
Nutanix has had a quarter to shout about with 46 per cent annual revenue growth and a reducing loss trend hinting at a profitable fourth quarter.
Its first fiscal 2018 quarter had revenues of $275.6m; they were $188.6m a year ago* and $226.2m in the preceding quarter. The GAAP net loss was $61.5m, which sounds bad but better than -$140.3m a year ago.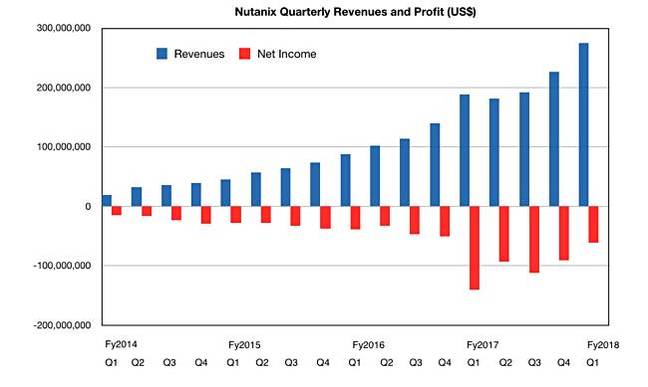 Quarterly revenue and GAAP net income numbers for Nutanix
Looking at the growth rate and declining net loss rate in the chart, we could imagine that Nutanix might slip into profit in the fourth fiscal 2018 quarter if it keeps on like this, and if the seasonal Q1 to Q2 revenue drop isn't too drastic. But the first fiscal 2019 quarter is probably a more realistic one for profitability.
Deal sizes are getting bigger – there were 49 customers with deals over $1m in the quarter, up 36 per cent y-on-y.
The customer count is healthy, with 7,813 total cumulative customers, up 762 q-on-q and 3,340 y-on-y.
Nutanix is heading into being a software-led business. Chairman, founder and CEO Dheeraj Pandey said: "Over the coming quarters we will thoughtfully adopt a software-centric strategy... I'm very much looking forward to a strong performance in the remainder of fiscal 2018."
Senior Wells Fargo analyst Aaron Rakers writes:
Our positive thesis appears to be playing out –
(1) strong / differentiated competitive positioning with expanding hybrid data center reach; progression beyond a hyper-converged infrastructure (HCI) play to an enterprise OS platform story (networking, security, Xi disaster recovery services, etc.) ...
(2) transition to software-only driven model to drive significant increase in the visibility of Nutanix's value proposition and long-term earnings potential (note: we believe Nutanix could see non-GAAP profitability with strong FCF generation in the late-C2018 timeframe).
Rakers sees a long-term progression to rateable software subscriptions and a recurring revenue model.
Earnings call
In the earnings call Pandey said: "A software-only form factor gives us ubiquity... we [will] embrace the subscription model next year with our Xi... Cloud services... Xi continues to be on track for a mid 2018 release. We're making meaningful progress with Google on the go-to-market and deployments strategies around the world."
He sees Nutanix moving to the IoT edge with support for a 4x4 mini server form factor and Prism Pro software.
"We're building an event-based message back application that manages data between the edge and the cloud core. [These] IoT data services are early forays into building platform services for developers beyond traditional infrastructure for IT operators.
"2018, 2019 will be years when we embrace open source, Apache Software Foundation services even further to deliver consumer-grade developer building blocks in Xi.
"Linking these building blocks into hybrid services is our big bet around the future of cloud. The true north of us is to provide a common IT experience in [the] hybrid cloud world, as we try to blur the line between owning and renting computing."
As part of this move to being software-led, Nutanix is getting out of the hardware business, relying on distributors and OEMs to supply the hardware, and changing its own salesforce's compensation to a software focus. Customers could still buy NX appliances from Nutanix but it will pass the SuperMicro hardware component through and not recognise revenue from it.
The company is working with IBM on supporting its AIX operating system and that should increase business with IBM customers. We could expect news within six months on this.
Pandey said: "Cisco was [a] pretty good quarter for us. This quarter substantially jumped from last quarter. HP is also going down [a] pretty robust path." There are no official reselling or OEM deals between Nutanix and either supplier, as they each have their own hyperconverged software.
tl;dr
Nutanix carries on pushing more into the enterprise market with both general and big deal growth. It's becoming a software-led company with a hybrid cloud view, looking to move to subscription-based revenue, and also to expand its market coverage to the Internet IoT edge.
It expects next quarter's revenues to be between $280m and $285m; $282.5m at the midpoint, and a 55 per cent increase y-on-y. ®
Bootnotes
*Revenues and net income for a year ago has been restated as Nutanix adopted the new ASC 606 standard related to revenue recognition effective August 1, 2017.