This article is more than 1 year old
Toshiba soups up XG5-P NVMe SSD with 2TB and chunky read/write boost
Premium model doubles capacity, ups IOPS 55 per cent
Toshiba has doubled the capacity of its M.2 form factor XG5 flash drive to 2TB with an XG5-P (premium) model.
The XG5, announced last May, comes in 256GB, 512GB and 1TB versions, using 64-layer, TLC (3bits/cell) 3D NAND like the XG5-P. There is an SLC (1bit/cell) cache in the XG5 and the same is true for the premium model, probably a larger one.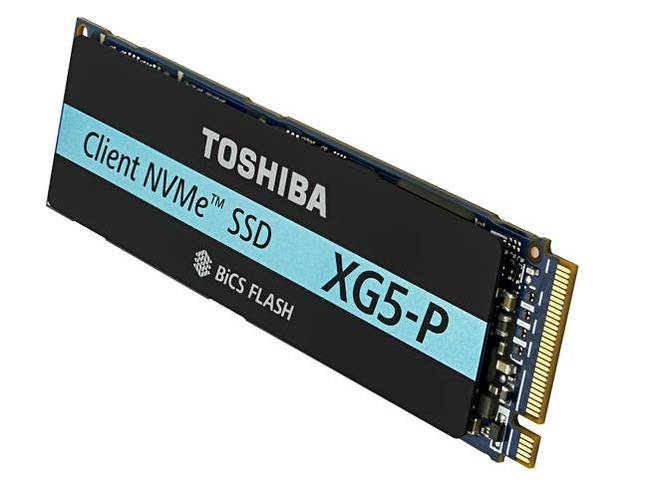 The XG5-P also has better random read/write performance, with its 320,000/265,000 IOPS approximately 55 per cent better in full access range, Tosh trumpets, than that of standard XG5 drives. That might indicate the XG5's previously unrevealed random read/write IOPS to be around 144,000/119,000. The XG5-P's performance is measured with the SLC cache status set to OFF.
Sequential read/write bandwidth of 3/2.3GB/sec for the premium model is virtually identical to the XG5's 3/2.1GB/sec.
The XG5-P and XG5 have the same power consumption of than 60mW during operations, and both feature a self-encrypting drive option. The format is the same as the XG5; a 2.23mm, single-sided M.2 2280 module. The interface is NVMe Revision 1.2.1 across a PCIe Gen3 x4 lane.
The XG5-P is being qualified by OEMs who can now double the capacity of their products and give them a random IOPS performance kick as well. ®