This article is more than 1 year old
Report: Women make up just 17% of IT workforce, paid 15% less than men
UK industry body calls for top-down change on diversity
Fewer than one in five IT workers in the UK are female and those that do carve a living from the industry are paid – on average – 15 per cent less than men, a study by the BCS has found.
In its latest Diversity Report, the Chartered Institute for IT looked at the make-up of IT professionals, the nature of their employment and their salary in 2016.
It found that 17 per cent of the IT crowd were female, while disabled workers made up 8 per cent of the sector. These are both lower than the ratios in the general workforce, where inclusion is at 47 per cent and 12 per, respectively.
Non-white workers were slightly better represented in the IT industry, at 17 per cent compared with 12 per cent across all industries.
When broken down by occupation, it is clear the upper echelons of companies are still staffed by non-minority groups. Just 10 per cent of women hold IT director roles, while non-white people accounted for 14 per cent.
The report also looked at the industries IT specialists worked in, finding that women make up just 14 per cent of IT staff in IT businesses, while non-white people make up 18 per cent.
Women and disabled people were also paid less than their counterparts: male and non-disabled IT specialists reported earnings of £780 a week, while disabled people pulled in 16 per cent less and women some 15 per cent less.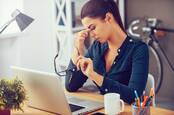 'Dear diversity hire...' Amazon's weapons-grade fail in recruitment email to woman techie
READ MORE
Branding the latest figures on women in tech "depressingly familiar", Rebecca George, public sector lead at Deloitte and vice-president of BCS, said action to address diversity needed to focus on men.
"Men run most of the organisations in our sector, so we have to start there. As they are four times more likely than women to say that they don't see discrimination happening, we clearly need to change the entire way that they think," she wrote in the report.
George said this could include unconscious bias training to help people think more carefully about ethnicity and disability, ensuring that career guidance takes into account the different pressures placed on people in these minority groups.
"There are lots of examples where simple, organisational changes can be made to alter the status quo – but it will require a myriad of changes, sustained focus and collaboration across organisations, employers, government, schools and community groups if we're to change anything," she concluded.
Both George and Sue Black, a long-time campaigner for women in IT who wrote the foreword to the report, emphasised that diverse teams were crucial for the design products and services that work for everyone.
Black also struck a more positive note when she claimed that although the report "paints a dismal picture", the industry was at a tipping point.
"Things are changing and this report gives us the data we need to measure and evaluate progress highlighting areas of concern and areas of success that we can celebrate along the way." ®