A World War II German Enigma machine will be among the valuables a US court plans to seize from convicted felon and shamed former pharmaceuticals exec Martin Shkreli.
The Enigma box is listed among the valuable assets American prosecutors plan to take to help cover the $7.4m in forfeiture the New York Eastern District ordered from Shkreli as part of his August conviction for securities fraud.
Shkrelii is being held in a Brooklyn detention center after a Facebook meltdown caused the judge to revoke his bail. Now, with sentencing set for January 18, prosecutors are asking the court to sign off on a forfeiture plan that would include an Enigma Machine Shkreli had purchased prior to his 2015 arrest.
Used by Adolf Hitler's German military during World War II, the Enigma system was among the world's most sophisticated ciphers in its time, and its complexity was famously cracked by superboffin Alan Turing's team at Bletchley Park.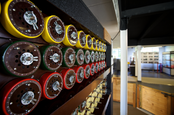 Bletchley rebooted: The crypto factory time remembered
READ MORE
"I'm conflicted because it's a Nazi relic," Shkreli said of the machine in a 2015 profile.
"It's like owning a gas chamber.. but it's a constant reminder that we should use knowledge for good, even if the process is ugly."
Also included in the forfeiture order is the sole copy of Once Upon a Time in Shaolin, the Wu-Tang Clan rap album the sole copy of which was purchased by Shkreli for millions of dollars and never released to the public.
Other assets listed for forfeiture include a Picasso painting and another rare hip-hop recording, Lil Wayne's The Carter V. The Brooklyn federal court has also been asked to take possession of a $5m E-Trade investment account.
Shkreli's attorneys have said they will "vigorously oppose" the motion. ®