Dell is set to overtake HPE and become the number-one server vendor in terms of revenue and unit shipment numbers, according to IDC. Meanwhile, Lenovo's server shipments are under severe pressure.
IDC's third-quarter Worldwide Quarterly Server Tracker has two tables and a chart showing what's going on. Here's the server vendor revenues table: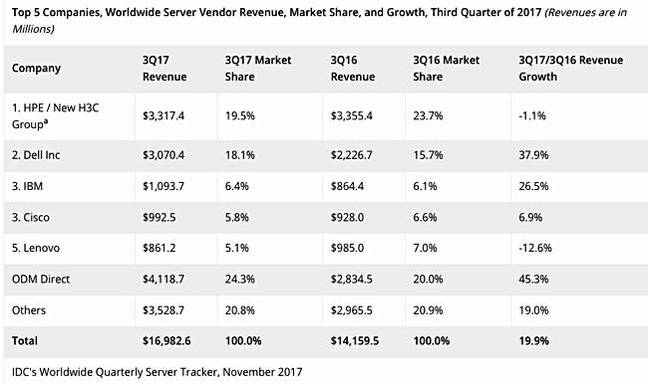 HPE is the leading named vendor by revenue share. But look at the right-hand column showing the year-on-year growth, with HPE's sales slipping back 1.1 per cent on the third quarter of 2016, and Dell's rising 37.9 per cent. If this keeps up, Michael Dell's tech titan could overtake HPE in revenue next quarter. The server market as a whole grew 19.9 per cent in terms of dollars pocketed. IBM outgrew it with a 26.5 percent surge in revenue, attributable to its z mainframe refresh. Cisco booked a 6.9 per cent growth, while Lenovo slumped 12.6 per cent, again all according to the beancounters at IDC.
The ODMs – original design manufacturers aka generic white-box shifters selling to the cloud hyperscalers – outgrew everybody with a 45.3 per cent rise in revenues. ODMs and the "others" accounted for the top two revenue gulpers, with HPE next and then Dell.
IDC has charted the revenue market share changes over the past few quarters: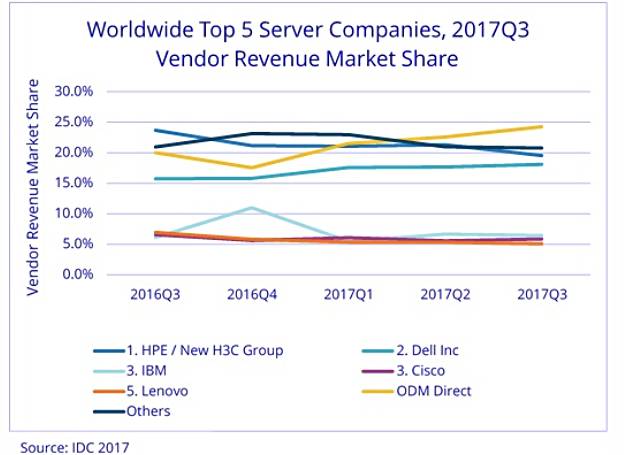 What can we glean from this? ODMs and "others" have overtaken HPE and, now, Dell is set to do the same. It is not growing as strongly as the ODM group, and looks to be edging closer to the "others" category. HPE is taking a beating.
Cisco, Lenovo and IBM are far behind the leaders, and have no realistic hope if catching up. Indeed, IBM may fall back as its mainframe refresh cycle completes.
Next up is the unit ship table for the same period: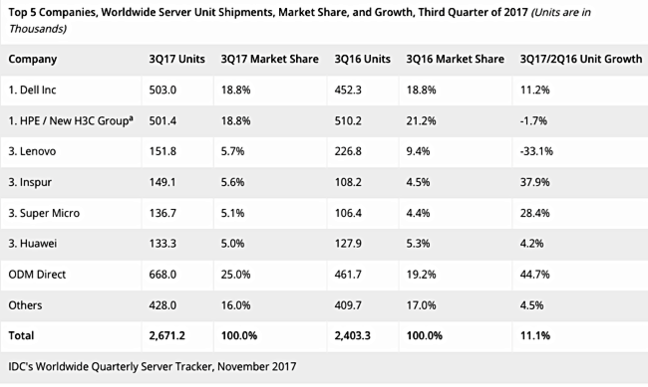 Although it has labeled the top five vendors, IDC has kindly included six of them. The market grew at 11.1 per cent, in terms of units shipped, and Dell grew at 11.2 per cent to 503,000 servers, we're told. HPE's total was close at 501,400 but it fell back 1.7 per cent, reflecting its withdrawal from the hyperscale mass market. Lenovo, Inspur, Supermicro and Huawei are all in the five to six per cent area, with ODM at 25 per cent and 668,000 units, growing at an astonishing 44.7 per cent, and "others" at 16 per cent with 428,000.
Lenovo fell back 33.1 per cent, and is another supplier taking a beating. Inspur grew 37.9 per cent, Supermicro 24.8 per cent, and Huawei just 4.2 per cent. Dell, Inspur and Supermicro have growing server businesses; none of the other server vendors in this chart do in any meaningful way.
It is only one quarter, and hyperscalers buy large numbers of servers in an irregular fashion so the ODMs may not fare so well next quarter.
Too long, didn't read summary
HPE and Lenovo are not doing so well in the server business, with both companies needing to make drastic changes if they are to halt declines and start growing. HPE is still a large volume shipper. Lenovo's foray into x86 servers via buying IBM's x86 business is looking like it might have been a mistake. ®