This article is more than 1 year old
Prison hacker who tried to free friend now likely to join him inside
But he got oh so close
A Michigan man who hacked into his local prison's computing system to gain early release for a friend is facing his own time inside after getting caught.
Konrads Voits, 27, pled guilty to hacking charges after installing malware on the Washtenaw County government computer system in an attempt to get a friend released early from prison. The attempt was unsuccessful and the police caught him, ensuring that he may well be joining his mate in the Big House.
"Cyber intrusions affect individuals, businesses and governments," said United States Attorney Daniel Lemisch.
"Computer hackers should realize that unlawfully entering another's computer will result in a felony conviction and a prison sentence. We applaud the dedication of so many hard-working law enforcement officers to take away this man's ability to intrude into the computer systems of others."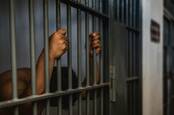 Stop us if you've heard this one: Russian hacker thrown in US slammer for $59m bank fraud
READ MORE
According to court documents [PDF] Voits set up a phishing domain ewashtenavv.org, mimicking the Washtenaw URL but using a double v instead of a w in January. He then pinged county employees using email from the domain claiming to be Daniel Greene and directing staff to a malware-laden site.
Voits also called up staff pretending to be a county IT manager. He used social engineering to get several staffers to download an .exe containing malware, claiming it was an upgrade.
In a sustained campaign, Voits managed to get the login details and passwords for 1,600 county employees, including for the Xjail computer system that is used to track inmates. By March he had the logins to the prison management system and tried to amend the records of one inmate to arrange their early release.
His tinkering raised red flags, however, and the authorities moved in. Once Voits' meddling was discovered, inmate records were fixed and the county called in computer forensics, spending $235,488 to fix the mess.
Voit has agreed to a plea deal and faces up to 10 years inside with a fine of $250,000 when he is sentenced in April. He's unlikely to receive the maximum sentence however. He also agreed to give up his laptop, four cellphones, and an undisclosed number of Bitcoin. ®