Analysis Barclays has stopped offering free Kaspersky Lab products to new users in a move that shows, like Best Buy, commercial firms can be swayed by governmental stances on dealing with the Russian software firm.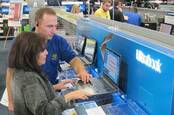 Red panic: Best Buy yanks Kaspersky antivirus from shelves
READ MORE
As El Reg reported yesterday, the UK high street bank replaced its Kaspersky download micro-site with a notice stating that this software "isn't available at the moment".
A Barclays Bank spokesman explained that although it wasn't offering Kaspersky's security software to new customers it wasn't asking them to uninstall it either. Consumers should continue to use anti-malware, Barclays advises.
The move, of course, followed advice from the UK's National Cyber Security Centre warning against the use of Russian-antivirus software on government computers – but only those which process SECRET (and above) documents...
A spokesperson for the banking group said: "Barclays treats the security of our customers very seriously. Even though this new [NCSC] guidance isn't directed at members of the public, we have taken the decision to withdraw the offer of Kaspersky software from our customer website."
We don't know whether or not it plans to reinstate the free security software offer using a different provider.
A spokesman from Kaspersky Lab said it is disappointed Barclays has decided to discontinue offering Kaspersky Lab anti-virus to new customers.
Founder Eugene Kaspersky commented on the NCSC advisory: "There is *no* ban for KL products in the UK. We are in touch with @NCSC regarding our Transparency Initiative and I am sure we will find the way to work together, he said on Twitter.
US government cyber assurance agencies including the Department of Homeland Security have been advising against the use of Kaspersky's technically well-regarded security software on government systems since September. US electronics chain Best Buy pulled Kaspersky products from its shelves amid concerns over supposed ties - strongly denied by the security firm - between Kaspersky Lab and the Russian government.
Some industry pundits see the developments as the start of a new era of so-called cyber balkanisation.
The term "cyber balkanisation" (aka the splinternet) is a term coined by Cass Sunstein in 2001 and explains the division of the internet into smaller, competing "factions" as a result of factors such as technology, commerce, politics, nationalism, religion and interests.
It's a long way from the lofty goal that accompanied the inception of the internet as a network to connect the computers of academics together for collaboration, innovation and information sharing.
The reverse can be said for cyber balkanisation, which threatens to destabilise the World Wide Web as we know it.
The latest Kaspersky / Israel / United States spying furore has highlighted just how close a splitup may be. Putin's apparent threat for Russia and its chums to set up their own internet doesn't ease people's concerns, either.
With nations pointing the finger at one another and accusations of spying being flung across cyber space, distrust pervades the industry and suspicion blurs the lines, according to managed security services firm SecureData.
Charl van der Walt, chief security strategy officer at SecureData, comments:
"In a reality where nations are in conflict, it's a real, hard fact that Kaspersky is a Russian company, employing Russian people, paying Russian taxes and subject to the power of the Russian government. Therefore it would be grossly irresponsible of any nation who sees Russia as a threat to allow any government department or significant business entity to be using any Russian technology, let alone something so deeply embedded as an antivirus engine."
"It won't stop with Russia either. China is already in the firing line and governments will increasingly see its technologies and systems being shunned.
"This is why Cyber Balkanisation seems like such an inevitable tragedy: If the West starts rejecting Russian and Chinese technologies, why wouldn't those two countries do the same? Inevitably pro-western allies like Israel and Western Europe will be painted with the same brush. All the way up and down the computing stack, governments and companies will be forced to choose vendors with which they feel a political alliance," he adds. ®