Top supercomputing biz boss cuffed amid allegations of fraud
Pezy CEO accused of $3.8m subsidy theft
---
The CEO of Pezy Computing, known for developing one of the world's fastest supercomputers, has been arrested on suspicion of fraud.
Motoaki Saito was collared in Tokyo on Tuesday along with the company's project development manager Daisuke Suzuki by a special investigative unit in Japan digging into a Japanese government program that subsidized research and development for emerging technologies. Pezy's headquarters were also raided, according to Japan Times.
The two are accused of allegedly padding expenses to the New Energy and Industrial Technology Development Organization (NEDO) to the tune of 431 million yen or $3.8m. The company claimed it had spent 773 million yen ($6.9m) as part of its supercomputer development – nearly double what government officials estimate it really spent.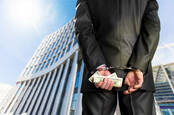 Ex-Autonomy exec agrees to be a witness for HP fraud case
READ MORE
Pezy Computing has jointly developed the fourth largest supercomputer in the world: the Gyoukou, which lives at the Japan Agency for Marine-Earth Science and Technology. Just last month, it was given the rank after achieving a computing speed of 19.14 petaflops, or 19,000 trillion calculations per second. It uses 1.35MW in power.
Green machine
Pezy is also behind the top three "green" supercomputers in the world, producing between 16.7 and 17.0 Gflops per watt – nearly three times more efficient than the world's most powerful supercomputer, the Sunway TaihuLight which is based in China and capable of a staggering 93.0 petaflops.
Pezy – whose name is an acronym for the units Peta, Exa, Zetta, Yotta - specializes in processors and the software needed to make them work in concert at such enormous speeds.
As for Saito, he has become somewhat of a celebrity in his field for pioneering the miniaturization of super-fast computers and for advocating for the greater use of supercomputers. He is also the CEO of ExaScaler which builds the Pezy systems using immersion liquid cooling technology, and Ultra Memory, which is working on 3D multi-layered memory.
Pezy has been working on a new iteration of its SC line of processors, with the SC-3 expected next year. With Saito such a pivotal figure in the company, however, the future of more efficient super-computers may come under threat if he is found guilty of defrauding the government. ®
Similar topics
Broader topics