This article is more than 1 year old
AI smarts: IBM pushes out 'faster than X86' POWER9 servers
We'll soon be Xeon the numbers...
IBM has launched its first POWER9 server, the dual-socket AC922, saying it is designed for compute-intensive AI work, speeding frameworks like Chainer, TensorFlow and Caffe.
It has two POWER9 chips and from two to six NVIDIA Tesla V100 GPUs, and shared CPU-GPU memory. The CPUs can have 16, 18, 20 or 22 cores and up to 44 cores in total. Each CPU supports up to three GPUs.
Summit for the readers who are hot for petaFLOPs: Server nodes flashed at SC17
READ MORE
The chips use 14nm technology and have 8 billion transistors. It has up to 16 DDR4 DIMM slots with 16, 32 and 64GB DIMMs available; a maximum of 1TB of main memory.
The 2U 2-socket AC922s feature three link technologies to make data movement 9.5 times faster overall than PCIe 3.0:
PCIe 4.0 - twice PCIe 3.0 speed,
4NVIDIA NVLink 2.0 with 48 lanes and more than 150Gbit/s CPU-GPU throughput
OpenCAPI
IBM says these are the first processors to use PCIe gen 4, and support more I/O and more threads than their x86 competitors. But Big Blue has not supplied any direct AC922 comparisons with Xeon SP servers to support this.
POWER9 processors are being used in the CORAL, Summit and Sierra supercomputers.
IBM also has a hyper-converged AC922 play with Nutanix.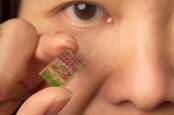 Google: We look forward to running non-Intel processors in our cloud
READ MORE
Big Blue says the AC922 is a scale-out server. It will develop two more POWER9 processors, with the first – for scale-up servers – coming in 2018, and the second – for larger memory capacities – in 2019.
Google is building a POWER9 server called Zaius for use in its data centres, a good win for IBM as it competes with the general deluge of Intel and AMD X86-powered servers. Big Blue has to have significant and justifiable price/performance advantages over Xeons and EPYCs or the POWER9 will die.
Contact IBM for pricing. ®