This article is more than 1 year old
Euro Patent Office ignores ruling and refuses entry to vindicated judge
President punts issue to Administrative Council
Despite having conclusively won two tribunals and been publicly supported by the International Labour Organization (ILO) demanding his immediate reinstatement, on Thursday patent judge Patrick Corcoran was refused entry to the European Patent Office's (EPO) headquarters.
At an extraordinary public meeting in Geneva yesterday, the ILO concluded that Corcoran had been wrongly suspended from his job and demanded that he be immediately reinstated as well as paid over €100,000 compensation.
The ILO also lambasted the EPO's management, particular president Benoit Battistelli, as well as its Administrative Council – which is made up of representatives from Europe's governments – for suspending the judge two years ago.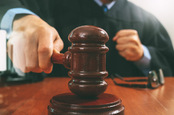 Euro Patent Office commanded to reinstate 'Nazi judge' it attacked
READ MORE
Despite the ruling however, which explicitly stated he should be handed back his user ID and be allowed to access EPO buildings effective immediately, when Corcoran turned up at the EPO's Isar Building in Munich after lunch on Thursday – reportedly to have a cup of tea with colleagues – he was turned away by the head of the EPO's security who reportedly informed him that she was under instructions to ignore the court order.
In a subsequent statement, the EPO denied it was refusing to accept the ILO decision but argued that the judgments came under the jurisdiction of the EPO's Administrative Council and noted that the issue had been added to the council's agenda at its meeting next week.
Letter
In the meantime, the EPO's Central Staff Committee has written a letter to EPO management and the Administrative Council arguing that the ILO rulings demonstrate that Battistelli cannot be allowed to enact any further reforms before his term ends next year.
The letter highlights the (many) criticisms of Battistelli within the ILO's rulings. "We cannot help but interpret the judgments both as a massive motion of no confidence in the President of the Office and a warning letter to the AC," the letter states and argues that the council was "misled about essential points" in the Corcoran case by Battistelli.
"We have repeatedly warned against the content and pace of major reforms which have been pushed through without genuine consultation," the staff representatives note, while pointing out that even if the EPO does follow the ILO's judgments (which, so far, it has not), that they still do not address the underlying governance problems at the EPO.
"The ball is now with the AC," the letter concludes, "which urgently has to answer the following question: should these reforms be left to a President and team having such a record of performance?" ®