This article is more than 1 year old
HMS Queen Lizzie formally joins the Royal Navy
At least one part of the 'Year of the Navy' went to plan
Britain's biggest ever aircraft carrier, HMS Queen Elizabeth, has been formally commissioned into the Royal Navy, with Her Majesty attending the ceremony in person.
The ceremony, held this morning at Portsmouth Naval Base inside the carrier's own hangar, saw Queen Elizabeth II address dignitaries and others before the ship's commanding officer, Captain Jerry Kyd RN, read the commissioning warrant, formally welcoming the vessel into the fleet.
Prior to today, the ship officially belonged to her builders, the Aircraft Carrier Alliance. The ACA still owns the second carrier, HMS Prince of Wales, which is due for delivery to the navy in a couple of years' time.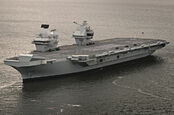 HMS Windows XP: Britain's newest warship running Swiss Cheese OS
READ MORE
"Our new aircraft carrier is the epitome of British design and dexterity, at the core of our efforts to build an Armed Forces fit for the future," said Defence Secretary Gavin Williamson in the inevitable canned quote.
"The Queen Elizabeth-class carriers will sit at the heart of a modernised and emboldened Royal Navy, capable of projecting power and influence at sea, in the air, over the land and in cyberspace, and offering our nation military and political choice in an uncertain world," added the First Sea Lord, Admiral Sir Philip Jones.
The new carrier was commissioned on the same date as the infamous Japanese attack on Pearl Harbour, as well as the date when the last British carrier, HMS Illustrious, was towed to Turkey to be torn apart.
The warship has attracted much public comment and controversy over her £3.5bn price tag. Informed folk were horrified when the ship appeared to be running Windows XP in her flying control room, though the MoD has assured the public that the ship won't be running XP once she's "operational".
In summer this year, a cheeky Scottish drone photographer scored a notable first, being the first to land a flying machine on the carrier.
Though severe questions remain about the carrier's role in an ever-shrinking Royal Navy, with stagnant defence budgets and not enough warships to safely escort the carrier in hostile waters and perform all of the Navy's other tasks, today is a proud day in British naval history.
After finishing her sea trials, "Big Liz", as her crew affectionately call the aircraft carrier, will sail to the US in 2018 for initial flight trials with her F-35Bs. Some British-leased F-35Bs will be flown to Britain next year, where they will be based at RAF Marham. ®