Los Angeles police tell drivers not to trust navigation apps as wildfires engulf area
There's no traffic on that road because it's ON FIRE!
As wildfires continue to rage around Los Angeles, the local police have asked drivers to be somewhat skeptical about navigation apps.
So far, over 200,000 people have been ordered to evacuate their homes as the fires are spreading fast, helped by dry conditions and 80mph winds. With over 116,000 acres currently engulfed in flames, many residents fleeing have been loading up their possessions and bugging out, but navigation apps aren't helping.
In a press conference on Wednesday, LAPD commander Blake Chow said that some navigation apps are correctly identifying traffic-free streets, but that the reason they were unjammed was because they happened to be on fire. He urged residents to use caution before trusting their navigation apps, the Los Angeles Times reports.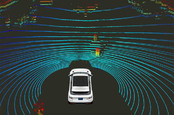 Autonomous driving in a city? We're '95% of the way there'
READ MORE
Instead, the police are asking residents to listen out for updates and obey roadblock signs when they are erected which "will help us, and it will help LA City Fire," said Chow.
People placing too much faith in electronic navigation is nothing new; pretty much since its invention, there have been reports of people driving into rivers or getting stuck on inappropriate roads. Australian police even issued a warning about Apple's lousy maps by saying they could get people killed.
Google has skin in the current situation, since its Maps app and Waze are the two most popular navigation software packages. The Chocolate Factory hasn't responded to a request for information but is reportedly working with LA police to rectify the situation.
In the meantime, the official California state traffic app, Quickmap, is posting real-time road closures in the area. Drivers should check routes before setting out and, when on the road, pay attention and try to avoid a Darwin Award nomination. ®