Dell's posted third quarter results that suggest it is on track to deliver its first profit since acquiring EMC.
Dell Technologies today reported Q3 2018 revenues were up 20.6 per cent year-on-year to US$19.6bn. There was also a net loss of $937m, down from $1.51bn loss a year ago and smaller than last quarter's $978m. As our chart shows, things are heading in the right direction.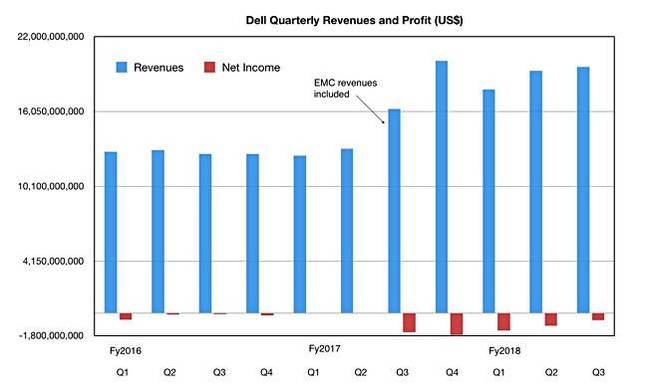 The trends show that Dell might make a profit next quarter if the traditional seasonal fourth quarter revenue surge occurs.
Client kit revenues were $10bn, up eight per cent annually, with double-digit revenue growth in notebooks and the 19th consecutive quarter of PC unit sales growth. Eat your heart out, Lenovo and HP Inc.
The Infrastructure Solutions Group generated $7.5bn, showing just two per cent growth quarter on quarter. Servers and networking were the stars, bringing in $3.9bn, up 32 per cent year-on-year and three per cent quarter-on-quarter. Eat your heart out Lenovo and HPE.
But storage revenues were flat at $3.7bn However there was triple-digit growth in hyperconverged products, led by VxRail, and double-digit growth for Isilon scale-out NAS and all-flash arrays. The hybrid VMAX and Unity arrays obviously did not do so well.
Dell paid down $1.7bn in debt and has sorted out $9.7bn of gross debt since the close of the EMC transaction. Cash flow from operations was $1.6bn, and the crushingly efficient Dell money-making machine keeps grinding out the cash needed to pay off the EMC buy debt and keep everyone happy.
Roll on the fourth quarter and possible profit for Dell, the man, and his merry band. ®