Mats Järlström, a Swedish electronics engineer living in Oregon, who was fined last year for referring to himself as an engineer and doing math without a license has tentatively won the right to use the term in communications with the state.
In 2015, Järlström sent email messages to the Oregon State Board of Examiners for Engineering and Land Surveying explaining flaws in a state-run automated traffic light camera system after his wife got ticketed by the system while driving in Beaverton, Oregon.
For describing himself as an engineer – a licensed profession in Oregon and other states – in missives suggesting how to fix the flawed math governing state traffic camera systems, the state board opened an investigation in March, 2015, and in August, 2016, levied a fine of $500 for practicing unlicensed engineering.
In April 2017, with the help of the Institute for Justice, a libertarian public interest law group, Järlström sued, claiming his First Amendment right to free speech had been hindered by the state's rules.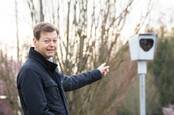 'I feel violated': Engineer who pointed out traffic signals flaw fined for 'unlicensed engineering'
READ MORE
When The Register spoke with Järlström shortly after the lawsuit was filed, he expressed disbelief that the state would impose restrictions so broad that he could not point out technical flaws in state systems. "I feel violated that I can't state who I am by saying 'I'm an engineer' and I can't even talk about traffic signals," he said.
On Monday, in federal court in Portland, Oregon, Christina Beatty-Walters, senior assistant attorney general for the state, conceded that the board's rules violated Järlström's right to free speech, echoing an admission made in a September court filing asking the judge to conclude the case.
Were the court to accept the state's motion and rule in Järlström's favor, that would not affect the state's ability to regulate speech practiced in the capacity of a licensed profession. It would simply free Järlström to refer to himself as an engineer in communications with state authorities without fear of punishment.
Järlström would like a ruling that goes further and prevents the state from enforcing the state's Professional Engineer Registration Act against anyone. In an email to The Register, he said he expects the case to continue, at least for a few more weeks.
"Although the engineering board has admitted they violated my rights in the past, they're resisting a court ruling that will prevent them from violating my rights – and the rights of many others – in the future," he said.
"Basically, the board wants us to trust that they won't overreach again going forward. But particularly given the board's history of aggressive enforcement, nothing short of a court order will ensure that I (and everyone else in Oregon) can speak freely without fear of government punishment."
Järlström said he and his legal team plan to seek such an order and he expects a decision from the court in two or three weeks as to how the case will proceed. ®