This article is more than 1 year old
Blighty flogs Qatar a bunch of missiles and Typhoon fighter jets
And Hawk training aircraft as well. Just don't say 'despite Br-'
Qatar has agreed its long-awaited order for 24 British-built Eurofighter Typhoon fighter jets and a billion pounds' worth of missiles assembled in the UK to go with them.
The £5bn Qatari order for the jets, built by BAE at its Warton and Samlesbury bases in Lancashire, will not, however, save all of the thousands of jobs set to go over the next few years.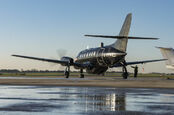 BAE confirms it is slashing 2,000 jobs
READ MORE
On top of that comes a £1bn order for Brimstone and Meteor missiles from French-headquartered defence conglomerate MBDA, which is one-third owned by BAE Systems and incorporates the formerly BAE-owned bits of the UK's guided missile industry.
Although the Eurofighter is nominally a multinational EU effort, in reality it is a mostly British aircraft built mostly in Britain by a mostly British firm. The Qatari order has been on the cards for years and a letter of intent was signed by former defence secretary Sir Michael Fallon in September this year.
Qatar also intends to buy a handful of Hawk jets, also made by BAE Systems. The Hawk is famous as the jet flown by the RAF's Red Arrows aerobatic team; it also equips RAF fast jet training units as well as a score of air forces around the world, plus the US Navy (with the licence-built T-45 Goshawk).
"We are delighted to begin a new chapter in the development of a long-term relationship with the State of Qatar and the Qatar Armed Forces, and we look forward to working alongside our customer as they continue to develop their military capability," said a clearly chuffed Charles Woodburn, chief exec of BAE Systems.
New defence secretary Gavin Williamson chipped in, also in a canned quote: "These formidable jets will boost the Qatari military's mission to tackle the challenges we both share in the Middle East, supporting stability in the region and delivering security at home."
The deal is good albeit belated news for British industry: the Typhoons won't be delivered until "late 2022", BAE said, while the Hawk element of the deal has yet to be decided at all. MBDA isn't struggling for work, thanks in part to the RAF's consumption of Brimstone air-to-ground guided missiles in the Middle East, but a fresh order for those and Meteor missiles keeps the order books nicely swelled.
The UK and Qatar will also form a joint squadron to provide aerial security during the 2022 football World Cup, which the Gulf state is hosting.
While Williamson was crowing about the deal securing thousands of jobs (one of the key tenets of Ministry of Defence public relations is that actually defending the nation comes a very distant second to job creation schemes), it isn't saving all that many; hundreds of the planned redundancies are still going ahead. Nonetheless, it's a few billion added to UK plc's bottom line.
BAE Systems is expecting to sign a deal with Saudi Arabia for 48 Typhoons at some point in the near future. ®