Shady US sigint base upgrade marred by stolen photograph
Northants comms station architects nicked pic from site that uncovers secrets. Fail!
---
An upgrade to a major US signals intelligence centre in Northamptonshire, UK, has been struck by controversy – after architects acting on behalf of the US Air Force and Blighty's Ministry of Defence nicked a photo of it from a website devoted to uncovering secret military bases in Britain.
Alan Turnbull, who runs the excellent Secret Bases UK website, has a section of his site devoted to RAF Croughton, near Brackley in Northamptonshire.
The base is notorious for relaying information stolen direct from German chancellor Angela Merkel's mobile phone back to the US for analysis.
It also houses a number of communications masts used for broadcasts to American spies abroad, as veteran investigative journalist Duncan Campbell revealed. "Tech support activity" takes place there but RAF Croughton's most high-profile role is as a relay station for the American Special Collection Service, the joint NSA/CIA unit that targets foreign countries, friendly and hostile, for snooping purposes.
"A massive expansion programme is underway to construct a new mission building, known as 'PL1', and a new antenna field comprising six new 'golf ball' radomes," said Turnbull. Working on that expansion is the firm HLM Architects, which filed a planning permission application in support of it.
He added: "Someone thought it would be a good idea to lift from my website a copyrighted aerial pic supplied to me (and only me) by a specialist pilot/photographer. It is used without permission or credit in section 2.3 of the Design and Access Statement 'Site Analysis'. It is watermarked and these watermarks show on the planning application PDF!"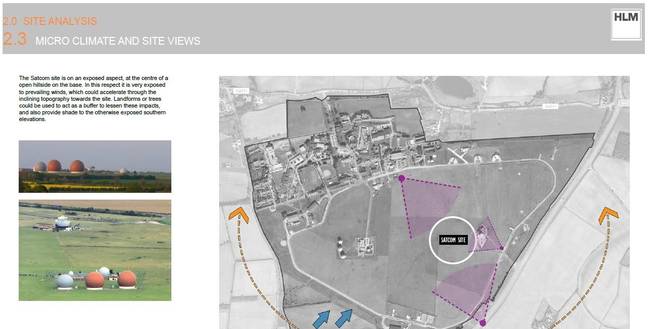 Section 2.3 from the HLM Architects' RAF Croughton Design and Access Statement
Comparing the page in the design and access statement written by HLM Architects with Turnbull's original picture shows that it is unmistakably the same image.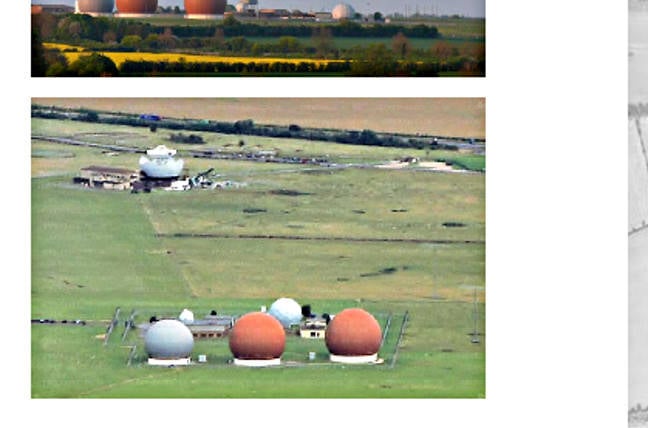 A blown-up view of the picture in the HLM Architects PDF. You can make out the Secret Bases watermarks as light bands across the picture, best seen against the brown golf balls at the bottom of the image
If you zoom in on the architects' naughty copy of the picture you can even see the Secret-Bases.co.uk watermark.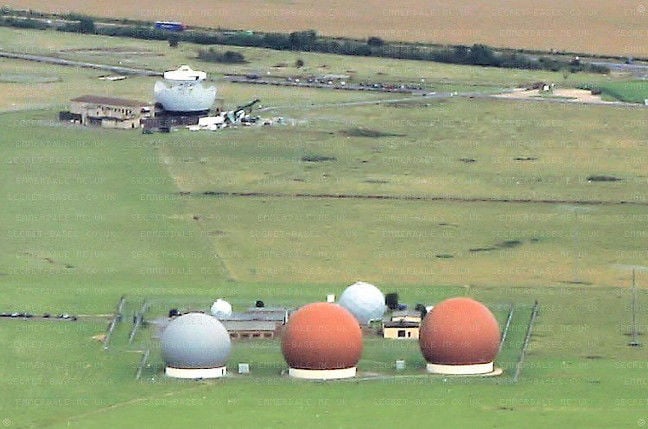 The view of RAF Croughton that was nicked from Secret-Bases.co.uk. Picture supplied by Alan Turnbull of Secret-Bases.co.uk and used with permission
We asked HLM Architects to comment on this but, after referring us back to Turnbull, they declined to do so, though we understand they do not believe Turnbull holds the copyright to the picture. Neither RAF Croughton personnel nor the MoD responded to Turnbull, he told us.
He added: "This whole thing suggests there are insufficient due diligence arrangements in place for an MoD contractor."
Croughton is formally designated as a Royal Air Force station to comply with various obscure laws about permanent foreign military bases on British soil and is under the nominal command of a British officer. In practice it is a US military enclave operating under US law and reporting solely to the US chain of command. The base itself dates back to the Second World War and was once a genuine RAF flying station, though the runways are long gone.
Curious folk who want to learn more about RAF Croughton can check out Secret-Bases.co.uk, the Croughtonwatch website (seemingly run by irritated locals doing a spot of ipsos custodietting on the American custodes) or run its co-ordinates through Google Maps: 51.9876, -1.1769 ®
Update, 18 December
HLM Architects has since agreed a licence with Turnbull for the use of the image, the copyright of which it accepts had been assigned to him by the original photographer.
Similar topics
Broader topics