This article is more than 1 year old
Xcellis: From 'gateway' for NAS dabblers to pusher of hardcore scale-out NAS boxen
Quantum claims to node its new stuff totally dunks on rival
Quantum has announced an Xcellis scale-out NAS system, claiming performance is three times better than the next-best competing NAS system.
Xcellis is hardware separated into Workflow Director Nodes and Workflow Director Storage. The Director Nodes run StorNext software, which provides access to a multi-tier and single namespace file repository comprising primary storage – the Director Storage Nodes – and secondary Lattus object and/or Scalar tape and/or public cloud storage.
StorNext has found its home in the entertainment and media workflow world, and in other similar application areas.
Xcellis can be configured to present both scale-out SAN and NAS. The Xcellis Scale-out NAS appliance can run on its own or be deployed as part of a multi-tier StorNext infrastructure
The Xcellis/StorNext Connect management component had scale-out NAS before, so what's new?
Quantum marketing boss Molly Presley said: "Simply put, we have moved from a NAS Gateway to Workflow Storage architecture to a complete, high availability scale-out NAS Appliance."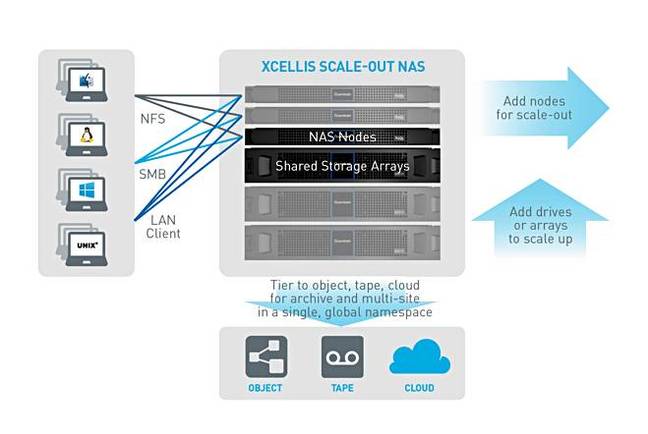 Xcellis scale-out NAS schematic
This involves a whole bunch of new stuff:
NAS: Scalability and High Availability

Distribute clients across the cluster nodes
Metadata performance improvements with new StorNext distributed file system API integration

New Virtual IP (VIP) mechanism

Master VIP for client connections
Master VIP for management network to allow separate client and management networks
VIP pool for direct client I/O connection

Scale Out SMB: DFS

DFS is an SMB protocol specific method for automatic scaling and load balancing
Allows every node in the cluster to directly serve clients and scale bandwidth by adding nodes

Scale Out SMB and/or NFS v3: DNS-based load balancing

Integrated NFS locks into the cluster
Internal DNS server provides algorithmic distribution of clients
Works for NFS v3 and SMB

New VIP pool feature

Pool of VIPs for improved client balance
At least one VIP per node, each node can have many
Client gets pointed to a VIP, and the VIP moves in the event of a failure

Simple-to-use NAS management GUI
10/40GbitE support and ability to purchase switches, HBAs etc for Ethernet solutions from Quantum as part of the complete Xcellis Scale-out Appliance networking infrastructure
Two new all-flash storage arrays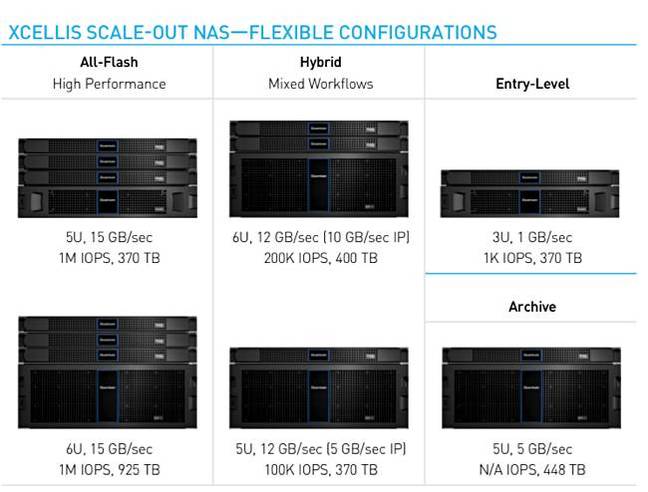 Xcellis configurations
Check out the datasheet here (PDF).
Xcellis Scale-out NAS will be generally available this month with entry configurations and those leveraging tiering starting at under $100 per terabyte (raw). ®