US authorities issue strongly worded warnings about crypto-investments
SEC says it's monitoring transactions like a hawk
---
The chair of the United States Securities and Exchange Commission (SEC) has issued a strongly worded Statement on Cryptocurrencies and Initial Coin Offerings that recommends extreme caution for anyone contemplating any kind of involvement in such investments.
The main thrust of Chairman Jay Clayton's words urged individual investors to make sure they informed themselves, because promises of enormous and rapid returns often prove too good to be true and the SEC has approved no exchange-traded products related to cryptocurrencies. The statement suggested some investors had been told otherwise.
Financial market professionals were warned to make sure they stayed on the right side of securities laws, because Initial Coin Offerings and some cryptocurrencies appear to be de facto securities, but none have been ratified by the regulator. Clayton also called on professionals to do no harm to retail investors.
"By and large, the structures of initial coin offerings that I have seen promoted involve the offer and sale of securities and directly implicate the securities registration requirements and other investor protection provisions of our federal securities laws," he wrote. "Generally speaking, these laws provide that investors deserve to know what they are investing in and the relevant risks involved."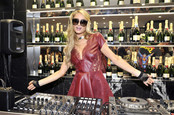 Beware Paris Hilton's investment advice, SEC tells investors
READ MORE
"I have asked the SEC's Division of Enforcement to continue to police this area vigorously and recommend enforcement actions against those that conduct initial coin offerings in violation of the federal securities laws."
He also signalled that the SEC was watching crypto-cash closely, saying that "just as the SEC has a sharp focus on how U.S. dollar, euro and Japanese yen transactions affect our securities markets, we have the same interests and responsibilities with respect to cryptocurrencies. This extends, for example, to securities firms and other market participants that allow payments to be made in cryptocurrencies, set up structures to invest in or hold cryptocurrencies, or extend credit to customers to purchase or hold cryptocurrencies."
The statement also offered plenty of warnings about the trans-national nature of crypto-cash, its equivalence to cash in terms of risk, and the likelihood that regulators may not be much help should things go awry.
Clayton's words may have had some effect: Bitcoin's value fell by nearly three per cent on Monday, US time, to around US$16,300 per BTC. But the cryptocurrency is still well ahead of its $6,000 apiece price from a month ago. ®