Sons of Sun DriveScale tempt cloud-lovers with composable infrastructure rig
Adventures in on-premises hyperscale rackland
---
Analysis Composable infrastructure startup DriveScale believes composability is not primarily about hardware. Its CEO told us: "Hardware doesn't drive software any more" and "SoCs are everywhere now", so "use the network as your backplane" because "100Gbit Ethernet is faster than PCIe 4 lane".
"It's all about the software. The box is a necessary evil… Big system vendors don't make anything anymore - they just sell things. It's not a pleasant business to be in."
We spoke to the startup at its Silicon Valley HQ in early December, where we heard a bit about its view on the rackscale IT situation.
We first encountered DriveScale in June 2016. It was founded in 2013, receiving $3m seed funding that year plus a $15m A-round in 2016.
CEO Gene Banman described himself as an ex-gas biker, having ridden conventionally powered motorcycles before going off into electric bikes via a startup called Zero Motorcycles. He ran that from late 2007 to March 2011, giving way to a replacement exec better equipped to handle a consumer-focused bike company. Banman stayed on the board though.
A stint with a waste heat generator company, Clear Power Systems, ended in 2014 when he joined DriveScale as its CEO.
We met Banman; co-founder and chief scientist Tom Lyon; co-founder and CTO Satya Nishtala; and VP product management SK Vinod in San Fran last week.
Banman puts a lot of emphasis on the exec team and its Sun heritage, implying that this exec cohort can do it again; the sons of Sun will also rise, so to speak. They are a bunch of rich guys – and you have to ask how much of the hunger is there still.

The sons of Sun: from left Tom Lyon, Gene Banman, SK Vinod, and Satya Nishtala
Between them, they have a lot of startup expertise, with Lyon, for example, founding Ipsilon Networks and co-founding Nuova Systems, the Cisco spin-in. At Cisco he worked on UCS servers. He said of this: "[HPE's] Synergy exists because of work we did at Cisco; it was a reaction to UCS success. We put IBM out of the X86 server business."
The DriveScale product is a switchbox, a DriveScale Adapter, that sits in a rack and uses Ethernet to connect any diskless server to any SAS storage drive in JBODs. That means you can set up different-sized compute and storage clusters with different ratios of compute and storage.
Does it solve a real problem?
We were told hyperscale customers buy new servers and storage for their workloads and it takes months for the servers and storage to be delivered, installed and deployed. With DriveScale, smaller numbers of servers and JBODs can be bought, added into a rack and composed into systems for workloads more easily and simply.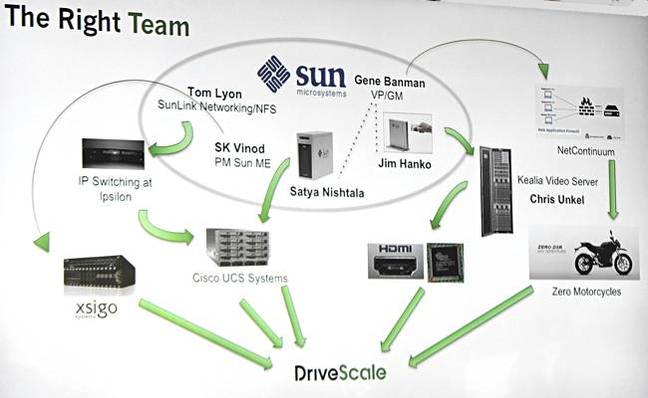 DriveScale exec team heritage
It's meant for hyperscale computing with software-based composable infrastructure. How does it compare to HPE's Synergy, with its hardware controller?
Lyon said Synergy is traditional and not next-generation workloads. Think Oracle and SAP in the trad camp and Hadoop, Cassandra, kafka, Spark and NoSQL in the next-gen camp. Synergy is "for blades and next-gen workload people can't afford it." Vinod confirmed this: "Synergy composes blade servers. We compose at the data centre level."
The HPE Synergy chassis is a sub-rack chassis with 40 drives. That is its domain whereas DriveScale operates at the full rack level.
Note that JBODs and servers can only be connected within a rack by DriveScale, not across racks.
Composability characteristics
"We make a box that lets you pretend your HDDs are on the network," said Banman, who added: "NVMe over Fabrics will enable us to not build our own hardware anymore. We will support it soon". Which means in the next few months, we understand.
DriveScale says it sells glue for hardware/software and the customer buys racks with diskless servers and JBODs. The firm claims they experience "up to 75 per cent savings" compared to running their applications in the public cloud because, at the hundreds of servers level, the public cloud costs a lot of money.
It makes more sense then, or so DriveScale said, to have the server and storage racks on premises, with DriveScale's adapter enabling any server to talk to any drive and the setting up of clustered servers and storage.
Kubernetes and Docker are supported now. Greenplum support is coming in the first 2018 quarter and a customer is adding Vertica next year. DriveScale will add machine learning—driven analytics of system performance and optimised hardware configs.
Vinod said DriveScale has "new stateful persistent storage for containers. … We bind drives to pods with Kubernetes and, as a container is moved around, we persist the drive connection - in very short order. … [It's] not logical volumes. … [You] can run stateful apps in containers. We call it FlexVolume."
Right now Drivescale is only working with Kubernetes on FlexVolumes.
He said that DriveScale does not want to become app-aware itself: "We want third parties to use connectors and our API to make us app-aware."
+RegComment
Dell EMC is a DriveScale reseller. DriveScale's biggest customer is AppNexus and it's hoping to grow fast and become the the next great computer company in the scale-out, rack-scale, next-generation IT infrastructure space.
The DriveScale execs are a canny bunch of experienced guys who want to experience Silicon Valley startup success again in a field they think they know well. Their kit is on-premises stuff in a world looking longingly at the public cloud, though cloud service providers could use it.
But, they say, hyperscale customers get pissed off with public cloud costs and want to come back home to on-premises cost-effectiveness. DriveScale claims to be able to give them cloud-like elasticity and hardware optimisation and big cost-savings.
We'll see if they can pull it off. ®