Analysis It's been a crazy storage news year with a furious blitz of announcements and events, some of which stand out more than others.
This is my personal selection of the main news events, some still ongoing, that impressed me during the year. First up is the longest-running one of all – Toshiba's chip business sale.
Toshiba chip business sale
For storage news writers this was the gift that kept on giving and giving and giving – to the point of boredom.
Toshiba and WDC have flash foundry joint ventures at Yokkaichi in Japan. Tosh got into financial doo-doo with its Westinghouse nuclear power station-building business in the USA and needed to raise trillions of yen to get out of negative equity, such was the scale of the staggering losses.
It held an auction to sell off its interest in the JVs. WDC claimed a veto on the sale and tried to buy Toshiba's interests. Toshiba said it could sell them, and did in a long drawn-out process, to a Bain Capital-led consortium including WDC competitors SK Hynix and Seagate.
WDC tried to block the sale by taking Toshiba to the International Court of Arbitration. Tosh took WDC to court in Tokyo, alleging WDC had harmed its business. There were threats of plant lockouts, barred plant database access, and then Tosh started going it alone in Yokkaichi plant investments for 3D NAND, and even started talking about building a whole new plant on its own.
It also raised new capital though a share placement, buying itself time to settle the JV issue.
So, hey presto goes the magician's wand, and WDC and Toshiba settled their differences and dropped lawsuits, and WDC walked away with precious little it didn't have before, except, hopefully, limits on SK Hynix and Seagate involvement in and exposure to the JV's NAND technology.
14TB disk drives
The disk drive industry has been edging towards 14TB drives for some time. It was shipping 12TB drives early in 2017. As soon as helium-filled drives meant the platter count could rise, another iteration of perpendicular magnetic recording (PMR) technology sent capacities upwards.
WDC business unit HGST launched a 14TB shingled drive, meaning blocks of partially overlapping write tracks which slow down rewrite operations. It used eight platters and came on the scene in October.
Earlier this month Toshiba, the number three in the HDD industry, finally did it, launching itself into helium-filled drive technology and simultaneously taking the capacity lead with a 14TB drive using conventional PMR recording and not shingling.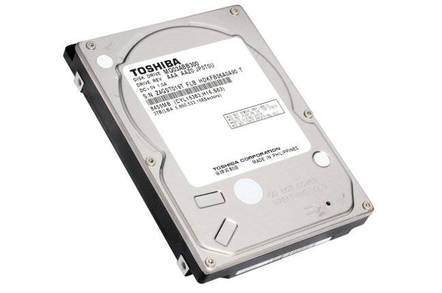 Toshiba 14TB drive
This drive crammed nine platters into its enclosure, which might be another first.
Next year we'll maybe see 16TB PMR and maybe 18TB shingled magnetic recording (SMR) drives. Seagate is pressing ahead with its heat-assisted magnetic recording (HAMR) technology, involving laser heating of bit areas on the drive platters, while WDC has ditched HAMR in favour of microwave-assisted magnetic recording (MAMR). If PMR resists another iteration then it will be MAMR, or HAMR drives, that reach and breach the 15TB barrier.
WDC predicts 40TB MAMR drives by 2025. These are fantastic capacities and the disk crash failure domain is broadening fast. How that will be dealt with in small HDD unit configurations is a problem for the future.
DSSD death
DSSD – what can we say? A billion-plus dollars down the drain as EMC spectacularly wrong-footed itself, is one view.
EMC bought the DSSD startup in May 2014 for a supposed billion greenbacks.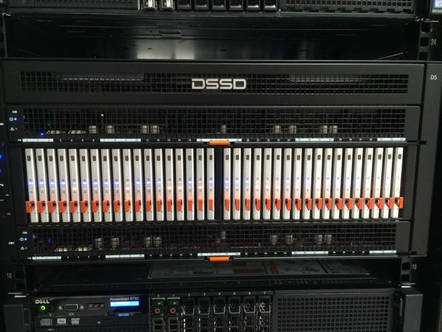 EMC DSSD D5 array
It had technology that promised superfast, rack-scale storage array access, with NVME over Fabrics linkage to flash drives. In the event the D5 storage array used proprietary components and was not well-received by the market.
It was shipped in the first half of 2016. A year later Dell, now the owner of EMC, canned it. We're told Dell will use DSSD technology in its storage and platforms, but this looks like salvaging whatever of value is left among the wreckage.
Add in two years of development costs and EMC looks to have wasted well over a billion dollars on its DSSD venture, leaving startups like Apeiron, E8, Excelero and others to reap its seeding of the NVMe over Fabrics array access market.
NetApp HCI
The market entry of a SolidFire-powered hyperconverged system was foreshadowed by NetApp and arrived in June. What was notable for me was that it was NetApp's first provision of servers to its customers, admittedly ones embedded in HCI systems.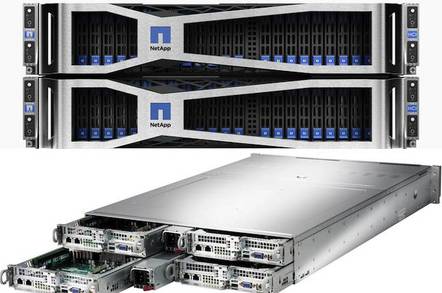 NetApp HCI
It signalled that NetApp was no longer constrained by a standalone storage mentality. CEO George Kurian has revitalised the company and its flash array business is impressively strong and growing.
We have not seen any numbers yet for NetApp HCI sales, and the competition – led by Nutanix, Dell VxRail and assorted VSAN systems – is also vibrant. NetApp's sales infrastructure is going to be working hard to sell the system and prove that NetApp does have a role outside standalone storage arrays.
WDC buys Tegile
Vertically integrating up and down, HDD and SSD vendor WDC expanded up the stack by buying Tegile, a startup supplying hybrid and all-flash arrays to the general enterprise market.
The deal was done in August, and makes WD the most vertically integrated storage company out there. It builds flash chips with Toshiba, and ships them in SSDs and now in all-flash arrays that will use WDC SSDs.
It also makes hard disk drives and will ship them in hybrid arrays as well as selling then to OEM customers, who will also buy its SSDs.
That is the theory. Whether OEM array-manufacturing customers will want to buy SSDs and HDDs from a component supplier that competes with them in the array business is an untested proposition.
The first clues as to whether this will work should appear in the second half of 2018, and be shown by Seagate and Toshiba picking up disk drive business from WDC, and Toshiba, Samsung, Intel and Micron picking up SSD business.
Seagate sells ClusterStor to Cray and joins Bain Bid
Seagate retreated from the HPC array business, selling its ClusterStor HPC array business to Cray in July for an undisclosed sum.
It had bought it in 2013 for $374m and obviously made the decision that its capital was better invested elsewhere. Seagate has started an initial and quite limited attempt to vertically integrate downwards into the NAND business by joining the Bain consortium buying Tosh's flash foundry JV interests.
This, if successful, should give it a strategic supply of flash chips for the first time, and there is potential to do more. Currently it looks like a heavily HDD-centric business, and WDC, assuming its Tosh row gets settled, looks more vertically integrated in flash and moving into the disk array business.
Will Seagate get into the flash business or retreat into its HDD comfort zone core, surrounded by the skinny DotHill OEM disk array business and relatively trivial SSD business?
We may get the answer next year.
Barracuda into private equity
Generally the backup business boomed this year. Companies like Druva, Rubrik and Veeam were growing like there's no tomorrow, but poor old Barracuda languished in comparison.
Barracuda started executing a shift from selling appliances to selling subscription services. It has been growing slowly, with $80m-$95m quarterly revenues, and has also been profitable, making between $1.5m and $3.2m profit a quarter, but it's not doing it fast enough.
Perhaps it's a case of Symantec syndrome, with security and storage products just not being as synergistic as you might think. Backup is seen as part of data management while security is perceived as a separate area of IT focus.
Whatever the reason for under-delivering, owners sold the business to private equity house Thoma Bravo for $1.6bn in November. That's no way a fire sale, not at all, and it will be interesting to see if the Thoma B boys separate Barracuda's security and backup activities.
Violin Memory returns from dead
Yes, you can't keep a good thing down, and Violin Memory is back, fresh out of bankruptcy, owned by part of George Soros's immense empire, and trading as Violin Systems.
New CEO and former SVP operations Ebrahim Abbasi said he is a turnaround expert and will restore value to Violin.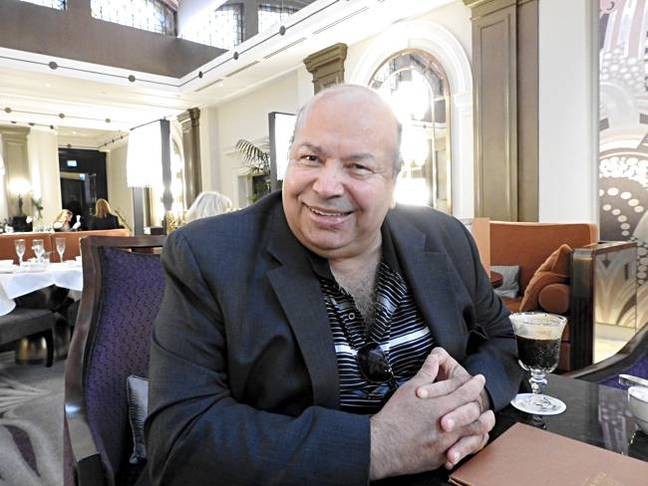 Violin CEO Ebrahim Abbasi
This putative phoenix is a sorry-looking bird covered with ashes right now, but costs are being controlled and it might yet fly again, albeit not to the same kind of heights.
Rise and Fall of Symbolic IO
This was perhaps the most weird story of the year. CEO and founder Brian Ignomirello, an ex-HP CTO, launched Symbolic IO at an unsuspecting world in early 2017. IRIS (Intensified RAM Intelligent Server), its computationally defined storage system, was revealed in early 2017.
This used a new way of coding data and promised storage capacity savings and performance improvements.
Then, in a bizarre twist, Ignorimello was arrested for violating a restraining order concerning domestic violence. The Symbolic IO board found itself without a CEO or driving force and nowhere to go.
The product is in limbo and interim CEO Thomas Cowan is working on a second round of funding and searching for a new permanent CEO.
HDS becomes Vantara because... IoT
The future prospects of the Internet of Things, with smart industrial machines, factories and city facilities entranced the Hitachi group so much that it refashioned its Hitachi Data Systems (HDS) subsidiary into Vantara. Vantara will enable, it is hoped, the addition of IT (Information Technology) to OT (Operational Technology) to make a new generation of smart machines operating in smart systems which record and analyse billions of sensor-sourced records to make the machines more efficient and the systems they support more powerful.
It's early days yet and Vantara plans storage product developments in 2018. Hitachi has turned its IT operation into an IoT operation, going further than Dell and HPE, who also have IoT initiatives focused on edge devices.
This is a long-term play and Vantara's prospects won't become clear until later in 2018 and beyond.
+Comment
Storage in 2017 bubbled, in fact positively seethed, with vitality, and there is much to look forward to in 2018 as storage-class memory and NVMe over Fabrics bring basic servers and storage components closer, while hyperconverged systems do the same at a higher level.
We could see HCI revenues grow beyond SAN/NAS revenues if analysts like Wikibon are right. But that might be a 2019 story. Meanwhile, let's all enjoy our software-defined, data-driven, multi-cloud, digital transformation journey to the next year of wonderful storage developments. ®