This article is more than 1 year old
Honey, I shrank the company: Tintri's dire third quarter presages a worse final one
Firm considers sale and looks to slash expenses
+Comment CEO Ken Klein is having to eat dust after Tintri's poor IPO saw sales staff leave. Third quarter results are dire, the fourth quarter looks even worse, and Tintri is considering selling itself.
We'll let the numbers talk first and see what Klein and his CFO Ian Halifax said in the earnings call.
Revenues in its third fiscal 2018 quarter were $31.8m compared to midpoint expectations of $36.5m. They were 6 per cent down on last year's $33.9m and lower than the previous quarter's $34.9m.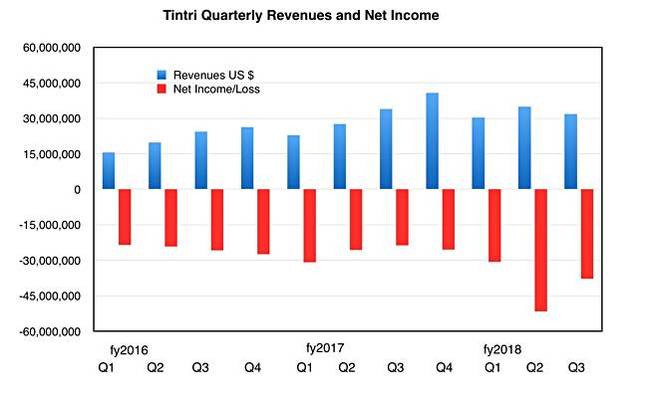 Tintri quarterly revenue trends to Q3 fy2018
There was a GAAP net loss of $37.9m, more than the revenues for the quarter, which compares to a net loss of $23.7m a year ago and $51.7m a quarter ago.
Free cash flow as a percentage of revenue was down 101.4 per cent.
So... profitability is far off in the future and Tintri is burning cash. Now for the bad news.
Next quarter's revenues are expected to be between $25m and $27m. They were $40.8m a year ago, meaning a 36.3 per cent fall. That would make full fiscal 2018 revenues of $123m, a 1.7 per cent decline from the $125.1mn reported for fiscal 2017.
How were these appalling numbers presented and received on the earnings call?
Chairman and CEO Ken Klein fessed up at once: "Our third quarter revenue was impacted by continued headwinds we have faced since our IPO in June. We made progress in the quarter by adding to our highly differentiated product portfolio and increase our footprint with existing customers, but we were impacted by delay and reduced purchases from some customers in our pipeline."
Then he delivered this statement: "We are exploring available strategic options to deliver value to our shareholders, including the sale of the company and optimization of our operating model to significantly reduce our cash burn rate and shorten the time to cash generation." Oh, things are that bad.
Klein thinks Tintri has enough cash and cash equivalents on hand to see the company through to positive cash flow generation next year. It shouldn't run out.
He said: "Although our Q3 revenue was lower than we anticipated, the company's technology advantage and value proposition remain intact."
William Blair analyst Jason Ader summed it up: "We worry that top-line growth and margin expansion will continue to be elusive. Meanwhile, heavy cash burn is likely to pressure the balance sheet for the foreseeable future. Thus, we think the best scenario for Tintri is to sell itself to a strategic buyer. We believe Tintri's technology and blue-chip customer base could be attractive to a larger player with holes in its product portfolio, and we believe management has resigned itself to this eventuality."
He is doubtful about Tintri's prospects if a sale falls through. "Should Tintri continue as a standalone business, our primary concern is that the company faces a catch-22 situation: it needs to reaccelerate growth to regain investor confidence, yet its weak balance sheet requires that it tread very lightly on investments. This requires a leap of faith that Tintri can thread the needle to drive materially higher productivity from existing resources, which feels like a long shot in the fiercely competitive storage market."
+Comment
Tintri is not toast but it's certainly feeling the heat. As chairman and CEO, Ken Klein holds all the levers of power in Tintri and the IPO cockup happened on his watch: "Honey, I shrank the company."
Tintri is an object lesson in why the CEO should not be the chairman, and Tintri's board fouled up when it approved that situation.
Any strategic buyer will treat this as a sale by a distressed company and look for a low-ball price. Private equity ownership might be the best result and that could mean Tintri's hardware business being ditched. ®