BlackBerry has announced "continuing support" for the legacy BB10 OS phones it once made – but won't be updating its first Android phone, the Priv, regularly any more.
"Support" means many things, and though owners of phones like the BlackBerry Passport will be relieved that the BB10 app store will continue to remain open for another two years, there's no mention of patches and updates.
The BB10 platform last received an update a year ago, and that was eight months later than promised. Most of the engineers who developed the platform had been shed by the end of 2015.
That's when Blackberry launched its first Android device, but now that two years have elapsed it will no longer roll out monthly security updates. Thurber admitted back in September that the Priv would remain stuck on Android 6.0 Marshmallow, the 2015 version of the platform.
"Having now stepped outside the original two-year window, we will no longer be delivering monthly updates for the PRIV moving forward," Alex Thurber writes on the BlackBerry blog. It will continue to honour warranties.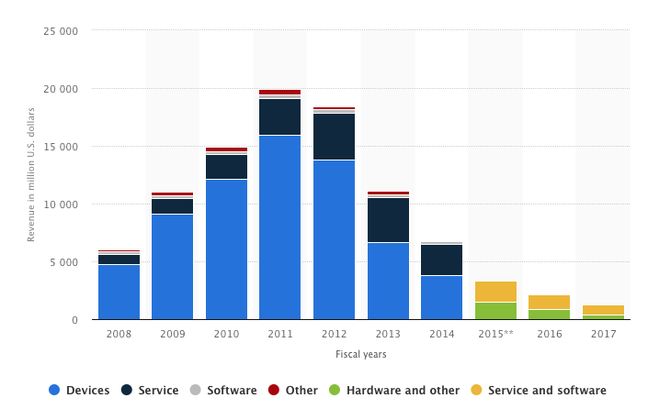 BlackBerry revenues 2008-2017 [Source: Statista]
The old Ontario-headquartered BlackBerry is now an enterprise software company turning over around $1bn a year. It's a far cry from its heyday. BlackBerry's final years as a device maker were catastrophic, and it switched to a licensing model last year, exiting the hardware business for good. A new entity called Blackberry Mobile, within the Chinese giant TCL, now designs and markets business-flavoured BlackBerry-branded phones, such as the recently launched Motion.
"We have got a very hardcore base in the regulated industries, it's a very demanding group. That's where we're focused. We're very committed to BB10," COO Marty Beard said a year ago.
BlackBerry once dominated the enterprise, but the unbundling of messaging and data from the hardware, and stiff competition from handset manufacturers and Microsoft meant it was no longer had a compelling proposition.
You can read more here. ®
Similar topics