Analysis Huawei has made a move towards storage class memory that suggests it believes infrastructure driven by the tech is not only possible but inevitable.
The firm said it believes that speeds of three storage elements are coming together to create a storage class memory-driven storage infrastructure that will work. It thinks that the first flash array era, Flash 1.0, was the result of an imbalance between slow disk drive media speed and fast SAS media and Fibre Channel storage networking protocols.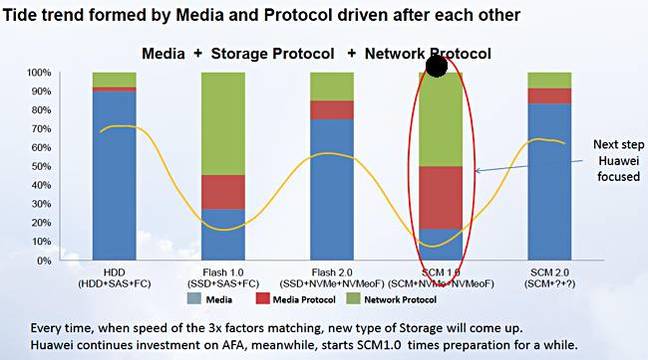 We are now entering a Flash 2.0 period, with an imbalance between flash media speed and the NVMe and NVMe over fabrics media and storage networking protocol speeds.
This will lead to the SCM (Storage Class Memory) 1.0 era, with a balance between SCM media, NVMe and NVMeoF speeds. Huawei is focussed on building next-generation storage systems for this era.
This storage will also feature QLC (4 bits/cell flash) with a new hierarchy of storage defined by access latency: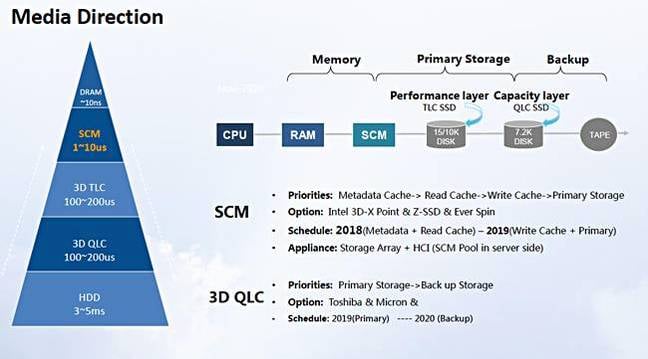 Embiggen this by clicking it - making it easier to read
The hierarchy runs from the CPU through RAM, and then SCM, 3D TLC (3 bits/cell) NAND - replacing 15/10K disk drives - and 3D QLC flash, which replaces 7.2K disk, and then out to tape.
RAM and SCM are in a memory layer with SCM being the first rank of primary storage. TLC flash is the main persistent storage layer, with QLC meeting some primary storage needs but mainly being used for backup and secondary storage.
The SCM media is seen as potentially coming from Intel/Micron's 3D XPoint, Samsung's Z-NAND and EverSpin's Spin-Torque MRAM. It could appear in systems in 2018 for metadata and read caching, and in 2019 for write caching and primary storage.
QLC flash is a 2019 story for primary storage use cases and a 2020 story for backup. Both the SCM and QLC use case progression is predicated on manufacturing yields increasing and prices coming down.
Huawei storage chip hardware
Huawei strongly believes in developing chip-level hardware to provide SSD control, storage processing and multi-protocol networking. The aim is to improve and optimise storage system performance using hardware offload and acceleration.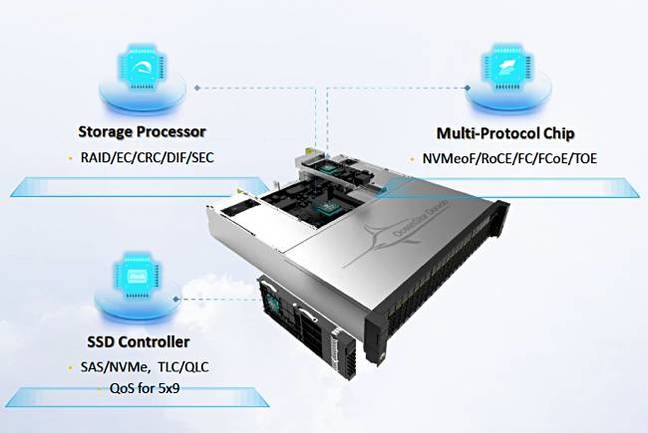 Huawei's storage chip development
The hardware acceleration in general would speed RAID, Erasure Coding, deduplication and data integrity field (DIF) work. Huawei's multi-protocol networking chip will support NVMe over Fabric, RoCE, Fibre Channel, FCoE and TCP offload (TOE) across 100GbitE links.
The SSD controller would cover SAS and NVMe, support TLC and QLC flash and provide a five nines quality of service level.
Huawei products such as its Fusion Server, CloudEngine CE8800, OceanStor Dorado storage array, and its NVMe SSDs would use these chips.
Huawei software storage architecture
Huawei has created its own DFV (Data Function Virtualisation) storage software architecture for this: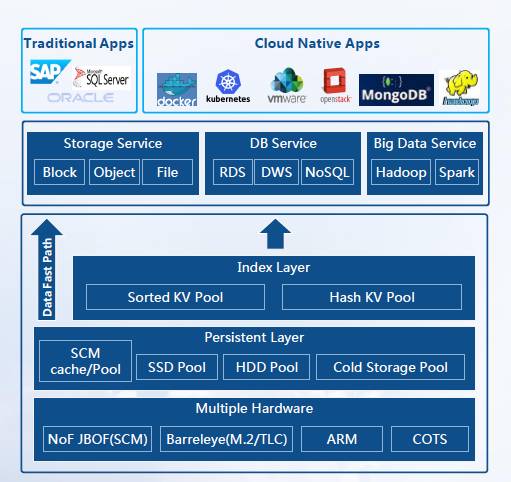 Huawei DFV storage software architecture
This DFV architecture will be the basic architecture for next generation storage, which will be deployed both in the public and private clouds. DFV architecture will be deployed in the Huawei public cloud in 2018, initially to provide the object service. The other services will follow later.
The DFV architecture features:
Data Function Virtualization

Block, object, file
Database (with Huawei database team)
Big data (with Huawei big data team)

Elastic

Thousands of nodes in single resource pool
Liner expansion (capacity/performance)
EB level capacity, 10 billion objects in one bucket
Cross region Replication, cross AZ EC

Software Defined Storage

3rd party hardware support
3rd party VM/container support

Unified hybrid cloud architecture

Deployed both in public and private cloud
Data flow from/to public cloud with native replication protocol
Unified user experience
The hardware layer on which it operates includes NVMe over Fabrics-0accessed JBOFs (Just a bunch of flash)with SCM media, its Barreleye storage, ARM-powered systems and COTS (Commercial, Off The Shelf) systems.
+RegComment
This is the most detailed picture of how a storage vendor will use SCM, NVMe drives and fabric and QLC flash we have seen from any vendor. The slideware looks great, and Huawei is unique in using proprietary, in-house chips to provide SSD control, storage processing and storage networking protocol work.
We see Pure Storage as having a similar level of storage systems hardware expertise but suggest Huawei has deeper chip-level expertise and capabilities. Our view is that Dell is firmly focussed on leveraging COTS hardware as is, but to a lesser degree, HPE, with its Synergy and memory-driven computing schemes.
If Huawei can demonstrate significantly better price/performance with its forthcoming DFV storage software and SCM/NVMe/NVMeoF/QLC storage system hardware then other vendors better pay attention.
NetApp has started talking about how it's going to implement NVMeoF and SCM with its Plexistor technology. Pure Storage also has its route to an NVME drive and fabrics environment.
The Huawei ideas represent a rejection of pure software-defined storage (SDS), as Huawei wants its storage software running on its storage hardware, with both HW and SW designed and develop to optimise system-level price/performance beyond what an SDS+COTS hardware system can provide.
Huawei can paint a consistent and unified hardware and software scheme that will reassure its present customers and entice prospective customers to look more closely at its offerings.
Who knows, but if the price/performance improvements are significant enough then the US market might even abandon some of its distrust of Chinese technology and take advantage of it. Huawei oorah. ®
Similar topics