On Call Welcome again to On-Call, The Reg's Friday column celebrating readers' stories of being asked to fix the unfeasible.
We usually anonymise the names of those who contribute On-Call stories, to protect the guilty and save some recriminations.
But this week's story came from a chap named Jason and that's relevant to his story.
Why? Because Jason told us his worst ever call out came after he "installed a new computer system at in a dental surgery." From Jason's description of the app, it was the kind of thing used to make appointments for patients.
The installation went well, but Jason said after the initial training his employer's help desk "received a call asking if the engineer who installed the system could return to remove his name from the diary page."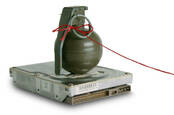 Disk drive fired 'Frisbees of death' across data centre after storage admin crossed his wires
READ MORE
The help desk tried to sort things out, but was insistent that some inappropriate personalisation could not be removed.
So Jason went to do the job, which meant a long round trip to figure out what on earth the client meant.
When he arrived he was shown that the diary page had his name, in capital letters no less, where the app listed the months of the year, by using just the first letter of their names: JFMAMJJASOND.
Have you been asked to fix something that was a part of the furniture? If so, let On-Call know a friendly email for your chance to feature in a 2018 edition of the column.
Those of you who submitted stories this year may be pleased to know that we're doing On-Call each day next week, complete with over 20 stories crammed into omnibus editions. ®