Erase 2017 from your brain. Face ID never happened. The Notch is an illusion
Under-glass fingerprint sensors are HERE
Apple is said to have made a virtue out of a necessity with its iPhone X – creating the notorious "Notch" to house a sophisticated facial-recognition system, Face ID.
Arch-rival Samsung didn't do away its fingerprint sensor, but perched it awkwardly on the rear of its Galaxy S and Note models.
Both companies had made these decisions to preserve the integrity of full-length glass designs. And they wouldn't have needed to if under-glass optical fingerprint sensors were ready for prime time.
They weren't then, but they might be now.
Synaptics this week disclosed details of an under-glass fingerprint sensor which makes Face ID and a dedicated fingerprint sensor redundant.
The Clear ID FS9500 parts "deliver one-touch high-resolution scanning through full cover glass and enable sleek, button-free, bezel-free infinity displays", according to the manufacturer.
So now you tell us?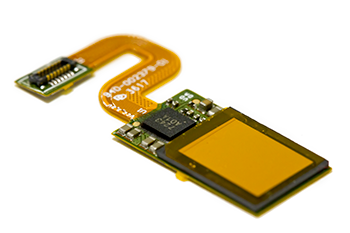 "Consumers prefer fingerprint authentication on the front of the phone, and with the industry quickly shifting to bezel-free OLED infinity displays, the natural placement of the fingerprint sensor is in the display itself," said Synaptics' Kevin Barber.
A scratched sensor is not a useful sensor, but since the Clear ID sensors will end up being protected by Gorilla Glass, the manufacturer says it's waterproof and scratchproof, and that models incorporating the technology should be launched early next year.
If only Apple and Samsung had waited another year. You wouldn't need a Notch, then.
But then the Notch tells everyone you're wealthy enough to afford a £1,000 phone. And Face ID is, we hear, quite flawless. ®