Slumping enterprise data centre server sales are set to recover in 2018 driven by the Purley refresh cycle and the need for more compute.
Dell'Oro's third calendar 2017 quarter server market overview said server market unit shipments increased 4 per cent year-on-year to 2.9 million driven by growth in the cloud but enterprise demand remained soft.
It has been declining y-o-y for seven consecutive quarters, down 8 per cent annually in the third quarter.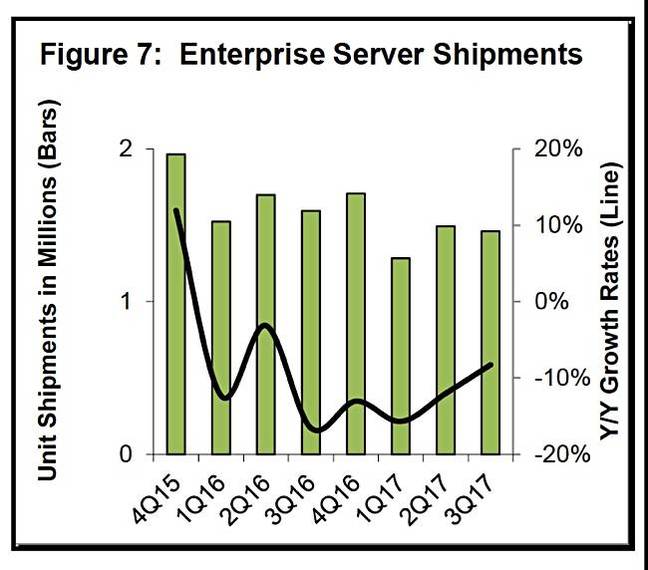 Dell'Oro enterprise data centre server ship slump
The general server vendor revenue shares were: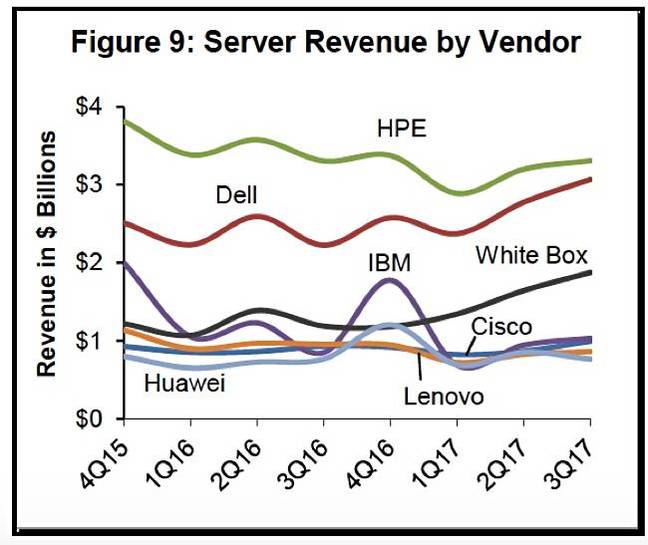 HP's share has been declining with the loss of Microsoft recently being counteracted by rising Asia-Pacific region revenue. Dell's server revenue was up a substantial 38 per cent y-o-y. IBM saw a rise due to z14 mainframe shipments and this is expected to continue with POWER9 servers.
Cisco remains in fourth with a moderate revenue increase of 7 per cent y-o-y. Lenovo moved up to fifth position despite a 10 per cent annual revenue decline. Huawei slipped to sixth as the company's revenue was flat on the annual compare.
The champion riser was the white box server vendor group, whose revenue increased 58 per cent y-o-y.
The research house expects to see sequential enterprise server shipment growth in the fourth 2017 quarter and the first half of 2018 due to the Purley refresh cycle and the settling down of memory pricing.
Dell'Oro doesn't see this overall enterprise server demand rise continuing, though. There will be server migration from small and midsize business (SMB) and smaller enterprises to the public cloud.
It thinks "larger enterprises, on the other hand, may have the scale and resources to adopt a hybrid approach composed of on-premises, private cloud, and public cloud server deployments. We believe this sector is stabilising."
The researcher thinks public cloud and hyperscaler customer server shipments will grow more than the enterprise market, though. Collectively, it estimates data centre-related cap-ex by the top-four cloud SPs (AWS, Azure, Facebook, Google) to grow at a healthy pace of 36 per cent in the whole of 2017.
This concurs with the latest report from TrendForce division DRAMeXchange, which says global server shipments will grow by 5.53 per cent in 2018 driven by the surging demand for servers in data centres. A chart shows the dominance of the hyperscalers in terms of installed servers: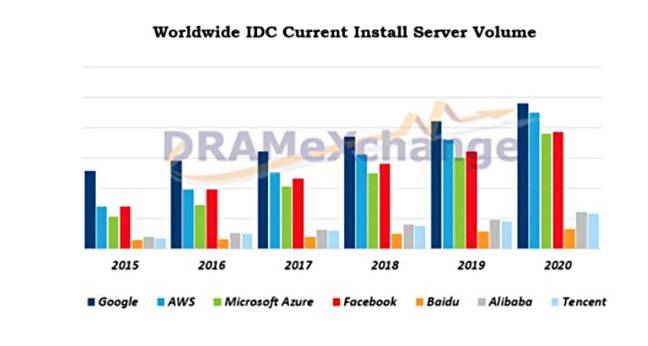 It says HPE, Dell and Lenovo are the top three server suppliers and will retain their dominance in global server market next year, with a shipment market share of 17 per cent, 16 per cent, and 7 per cent respectively.
There is an ongoing threat that the white boxers will enter the enterprise data centre ring and grab more market share by adding value to their servers with more cores, memory and services.
For example, Baidu has announced the immediate availability of single socker, AMD Epyc-powered AI, big data, and cloud computing (ABC) services. It expects to expand its use of AMD EPYC processors across its global data centres beginning in the first quarter of 2018.
There is no reason why a white boxer couldn't take on HPE, Dell and Lenovo Intel servers with the same basic recipe plus added services. ®
Similar topics