Anyone hoping that the 10th anniversary iPhone hype – including the revolutionary 3D poo emoji – would reinvigorate consumer interest in the product line may be disappointed.
First-month iPhone sales are slower than last year, one analyst surmises, and for good measure the major Chinese Android vendors have cut stock orders by 10 per cent, according to a report in Digitimes.
Some analysts hoped a revamped, 10th anniversary would spur a "super cycle". iPhone owners who had held off upgrading would re-enter the market, many on Wall Street hoped. Top analyst Toni Sacconaghi at Bernstein made his "supercycle" prediction based on the dependability of upgrades – a monotonous 25-27 per cent except for the bumper year of 2015 (36 per cent), and the larger installed base than in previous years.
Richard Windsor of independent research producer Radio Free Mobile says that, based on early data from two months since release, there is no "supercycle". The three new models have closed up 11.3 per cent of the user base, according to Mixpanel data. Last year's iPhone 7 and iPhone 7S had penetrated 23.5 per cent after two months.
"This strongly suggests that the latest generation of devices is not generating the kind of super cycle that the market is looking for," he suggests. "This is a strong indication that uptake by users of the new generation of devices is actually slower than it was for the iPhone 7."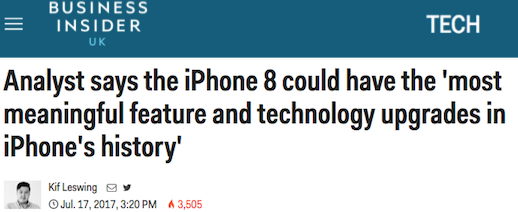 In 2016 Apple bifurcated its line and the "old" design now looks tired alongside a highly desirable new design. But that new design is £999*. However, Windsor notes that the demand for the iPhone X is remarkably high considering its price. It's more popular than the 8 Plus. The shift to more expensive models means Apple should still be prosperous – it's extracting more money from its well-heeled user base, which is what every luxury product supplier loves to do. Windsor offers several caveats, but still concludes that many iPhone owners will wait for the new design to be incorporated in lower-priced models.
Not everyone shared Sacconaghi's optimism. Deutsche Bank was one that thought the expectations were brittle.
Digitimes reports that Huawei, and BBK's Opportunity and Vivo, have cut orders by 10 per cent. ®
*Bootnote
*Screen protector not included.
Similar topics