Ugh, stupid power supplies hogging server density, who needs 'em?
Supermicro's battery backup module will fit another rack in
Supermicro has added battery backup power to its disaggregated rack-scale server product line to improve power efficiency and server density ratings.
Its disaggregated server architecture means CPU, memory, IO, storage and power/cooling elements can be upgraded independently. Each component can be refreshed separately to maximise generational improvements in performance and efficiency compared to waiting for a single entire server refresh cycle.
The battery backup power (BBP) modules replace a traditional uninterrupted power supply (UPS) sub-system. It says the BBP has 2 to 10 per cent better power efficiency than a typical, and more expensive, UPS.
The BBPs have enough power for server data contents to be saved when there is a power failure.
Supermicro says the BBP, with rechargeable Lithium-Ion batteries, enables customers to avoid data centre outages and shutdowns due to centralised UPS failure, which accounts for a claimed 25 per cent of outages worldwide.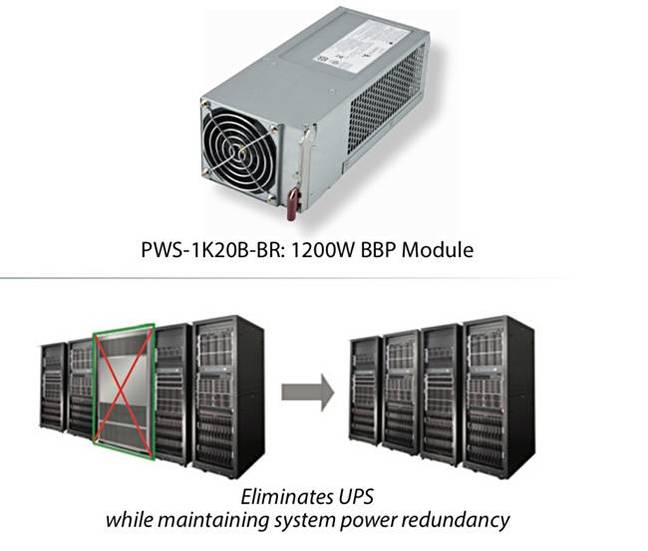 Using BBPs means rack-scale centralised UPS space can be recovered to improve server density
There are MicroBlade and SuperBlade disaggregated server designs. The MicroBlades have either 6U or 3U chassis, with 14 or 28 hot-swappable server blades, while the SuperBlade has 4U, 6U or 8U chassis. A 6U SuperBlade combines Xeon SP compute, storage, and networking in the enclosure with either 10 or 14 blade servers, up to 28 U.2 NVMe or 42 SAS SSDs, and up to four 25G or 10G Ethernet switches.
These servers support M.2 NVMe and Intel Optane drives, and there can be up to 98 dual or single-socket blade servers in a 42U rack.
Supermicro says its MicroBlade systems deliver 86 per cent improvement in power/cooling efficiency, and 45 to 65 per cent hardware capex savings per refresh cycle with the rack-scale design, compared to existing monolithic servers.
A Fortune 100 hyperscale customer deployed more than 30,000 such MicroBlade servers in its Silicon Valley data centre in February this year. It used 3U/14-slot chassis, meaning around 2,150 of them in 165 racks with our crude maths.
These had a greater Power Usage Effectiveness (PUE) rating of 1.06; better, Supermicro says, than the trad data centre rating of 1.49 or more.
Now it's bragging it has a Fortune 50 customer in the Electronic Design Automation area, with 50,000 of these servers, quoting the same PUE rating advantage; 1.06 compared to 1.49. Supermicro says there is an 88 per cent improvement in overall energy efficiency. When the build-out is complete, at a 35MW IT load power, its customer is hoping for savings of $13.18m/year in total data centre energy costs.
When you have 50,000 servers, a seemingly trivial 2 to 10 per cent saving on power costs for BBPs versus UPS turns out to be quite large. Every little helps. Get a brochure here (PDF). ®