This article is more than 1 year old
All flasher Tintri makes play for the cash-strapped: Buy 'em drive by drive
Well you do need to start with 13...
Tintri has made a FlexDrive facility available so cash-strapped customers can expand all-flash array capacity one drive at a time.
Customers don't have add drives at multi-drive canister level or in RAID groups, it said. This means capacity can track demand more closely and spread out OPEX cash needs across smaller payments - great for cash-limited customers.
They can add capacity by inserting the drive, or drives, into any available drive bay, click an single "expand" button in the Tintri interface, and get immediate access to new capacity, and deploy virtual machines without any further configuration.
A half-populated Tintri EC6000 all-flash system can start with 13 drives and grow one drive at a time. Tintri OS v4.4.1 adds the drive-by-drive expansion capability, which was prefigured in the EC6000 announcement.
Tintri senior tech marketing engineer Bill Roth blogged about FlexDrive in November, mentioning an expansion estimating tool "to handle the calculations with RAID6, compression, and deduplication and any other overhead to simplify planning."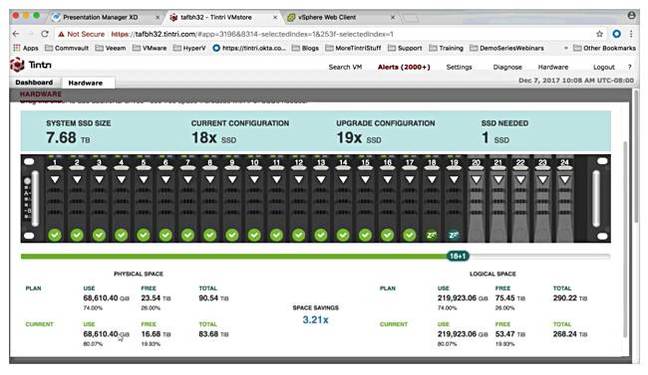 Tintri EC6000 drive expansion estimator
There is a somewhat tedious Tintri Tech 20/20 webcast available here which discusses the EC6000 FlexDrive idea, and adds a 7.68TB drive to an array to demonstrate it. It shows a somewhat slow refresh latency around the 14 minute point, perhaps due to weird Wi-Fi effects inside the webcast studio?
Tintri FlexDrive software for EC6000 systems will be included at no charge to customers with current support contracts via the Tintri OS 4.4.1 release available later this month. ®