This article is more than 1 year old
Storage Wars: Not very long ago, a hop, skip and a jump away...
Rebel firms have been seduced by the dark side and Darth Reg must bring balance to the force
Storage wars are ongoing across the galaxy and of course every supplier claims the force is with them. Here's the latest news overheard from the wretched hive of scum and villainy otherwise known as the storage industry.
Splunk climbs K2
Kaminario is using Splunk Enterprise to provide analytics for its K2 arrays and also pushing the K2 flash array as a storage platform for Splunk Enterprise customers. Splunk's software searches, indexes and correlates monitors, and analyses machine-generated big data, via a web-style interface.
Using the data in its repository, Splunk can generate graphs, reports, alerts, dashboards, and visualisations. Kaminario is using its arrays as a source of syslog, audits and login information, and then having Splunk stream and visualise it to K2 admins as dashboards, alerts and reports.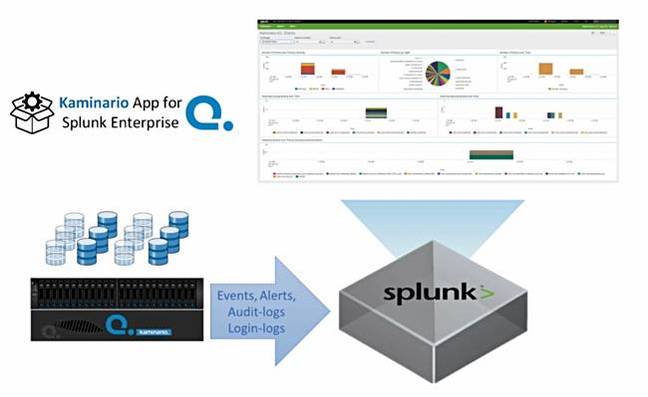 There's a Kaminario blog discussing it here.
LucidLink
LucidLink has launched its distributed file system, which reads and writes directly out of an S3 object store, specifically targeted as a framework cloud-based protocol for high-latency architectures. You can stream your files directly, it says, from the cloud because LucidLink provides the ability to mount an object store in the cloud and use it as local storage.
The company was started by ex-DataCore software engineers as this blog explains.
LucidLink claims its software is the easiest way to use S3 object storage as primary storage in any machine – in the cloud, on premises, or on the edge – as a service. You can use your own AWS account, pay as SaaS, and access it just by installing an app. Check out a demo and the beta software.
Jedi knights; Jedi days – Panzura and Nasuni
Nasuni cleverly jumped on the buzz for Star Wars: The Last Jedi with a blog post headlined "Darth Vader Needed Nasuni and Cloud Storage" to pitch six things the movie teaches us about file sharing, data protection, and disaster recovery. So Rogue One Panzura then stomped on Nasuni with its own blog take, saying Panzura's tech is better than Nasuni's.
NVMe over Fibre Channel plugfest
The Fibre Channel Industry Association (FCIA) completed a second industry-wide multi-vendor plugfest. The event offered the first official NVMe Over Fabrics compliance and interoperability transport layer testing for Remote Direct Memory Access (RDMA) over Converged Ethernet (RoCE) and Fibre Channel. It was also the first validation of the newly completed INCITS T11 FC-NVMe standard.
The plugfest took place in the week of October 30 at the University of New Hampshire InterOperability Lab (UNH-IOL).
The FC-NVMe plugfest part featured conformance, error injection, multi-hop, and interoperability testing of FC-NVMe concurrently with Gen 6 32Gbit/s FC and previous FC generation fabric switches and directors.
Nine vendors took part:
Amphenol Corporation
Brocade Communications Systems
Broadcom Limited
Cisco Systems
Hewlett Packard Enterprise
Cavium's QLogic Corporation
SANBlaze Technology
Teledyne Technologies; LeCroy Corporation
Viavi Solutions
Mark Jones, president and chairman of the board, FCIA, and director, Technical Marketing and Performance at Broadcom, said: "Major operating system vendors are just releasing support for NVMe over Fabrics and the FC-NVMe INCITS T11 standard is now complete and has been forwarded to INCITS.
"The FC-NVMe technology is on track to becoming as interoperable and reliable as previous generations of FC, while vastly improving performance for the next generation all-flash data centres."
NVMe over Fabrics running across Fibre Channel looks like a no-brainer Fibre Channel SAN upgrade.
The plugfest generated 14 new certified products for the base NVMe Integrators List and one for the NVMe-MI Integrators List.
Eight inaugural products were also approved for the newly launched NVMe-oF Integrators List, which accepts RoCE initiators and targets, Ethernet switches, as well as Fibre Channel initiator, targets and switches, and software.
Attendance included 63 engineers from 19 different companies focused in enterprise, client, cloud storage and test equipment manufacturing. Participating NVM Express member companies included Broadcom, Brocade, Cavium, Cisco, Intel, Lite-On, Mellanox, Microsemi, Oakgate, SANBlaze, Seagate, SerialTek, SK Hynix, Starblaze, Teledyne-LeCroy, Via Technologies, Viavi, Toshiba and Western Digital.
Qumulo predictions
Qumulo CTO and co-founder Peter Godman has made some predictions for 2018:
SSD won't be cheaper than HDD. In 2016, every all-flash vendor in the world claimed that SSD was now cheaper than HDD, based on two nonsensical claims that (1) all data is compressible and duplicated and (2) compression and dedupe don't apply to HDDs. Western Digital's MAMR announcement makes it clear that the ratio of NAND flash capacity cost to HDD capacity cost will remain close to 10x for years to come.
All major cloud vendors will start to build or buy file storage, as they realise that quality, scalable file storage is essential for capturing compute-intensive workloads.
SATA and SAS SSDs will rapidly disappear as the cost of NVMe and SATA/SAS converges quickly.
AMD will make rapid inroads in all-flash storage due to Epyc's enormous PCIe bandwidth, and Arm will wait on the server sidelines for another year.
People
Brian Pawlowski, the ex-Mr FlashRay from NetApp, is now an advisor to Pure Storage, having relinquished his chief architect role in October. Pure Storage co-founder John Hayes is also an advisor at the company, with that role staring in February.
John Loiacono has left his VP worldwide sales engineering job at Cohesity after less than six months in the role. Ex-NetApper Loiacono joined Cohesity in June 2017 as VP systems engineering. He follows HR head Nicole Rasko out the door; she went in November after Rob Salmon's appointment as COO in October. Salmon also came to Cohesity from NetApp.
Vineet Abraham was announced as Cohesity's new VP of Engineering in September, coming from Riverbed.
Patrick Rogers, Cohesity's VP for marketing and product management, tells us: "Simultaneous with John's departure, Roger Anderson is joining Cohesity as our new VP of WW Sales Engineering. Roger, previously ran the worldwide SE organisation at NetApp over his 20+ year career there."
Shorts
AOMEI Backupper Network (abNetwork) has been released, and manages remote backup for large numbers of PCs and servers linked across a local LAN. It centrally manages the backup tasks for all the PCs and Servers on the local net. The abNetwork tool is also included in the latest AOMEI Backupper V4.5 Beta – download here.
Assigra's Partner Acceleration Program enables customers to reduce their cost of backup and recovery by 50 per cent of what they are paying currently. It also allows partners to select a preferred software licensing model to fit their business and encourage customer adoption.
ATTO 16Gbit/s Celerity Fibre Channel host bus adapters (HBAs) are now certified with Nexsan's Unity storage platform.
Cohesity says more than 20 US government agencies and departments have deployed its secondary storage platform, including The Department of Health and Human Services, the Department of Energy, and the FIPS (Federal Information Processing Standards) 140-2 certification for its software.
FileCloud, a cloud-agnostic Enterprise File Sharing and Sync (EFSS) platform, today announced the world's first availability of General Data Protection Regulation (GDPR) compliance support for organisations utilising private cloud enterprise file sharing with its FileCloud platform.
It supports complete EU data-residency and GDPR compliance across private and public cloud deployments. FileCloud is introducing the ability to manage multiple policies across users, including GDPR, which means that organizations can choose to show GDPR-specific consent only to users in the EU and not those who reside elsewhere.
Hazelcast, which supplies its open source in-memory data grid (IMDG), says that IMDG Enterprise is available as a certified Enterprise Linux-based image for Red Hat's OpenShift Container Platform (formerly OpenShift Enterprise).
Lite-On Technology and Tsinghua Unigroup are partnering to jointly develop the China market for storage products such as solid state drives (SSD). Tsinghua Unigroup will invest $55 million Lite-On's new subsidiary in Suzhou.
Oracle's Cloud Infrastructure can now have a Linux Storage Appliance, shared storage using NVMe drives, attached to a compute instance. It can be deployed on bare metal and VM cloud shaped instances.
Redgate Software has introduced data masking to its SQL Clone database provisioning tool. This enables users to create and share full copies of SQL Server databases in seconds, enabling developers to work more efficiently, incorporating databases into DevOps processes.
Rubrik says its cloud data management offerings have been certified to meet the EAL2+ requirements of the Common Criteria for Information Technology Security Evaluation. Its products also support FIPS 140-2 Level-2 validated self-encrypting drives and all major AWS and Azure government infrastructure clouds.
Storage Made Easy has announced FIPS 140-2 U.S. federal government validation of its Enterprise File Fabric cryptographic algorithm.
Synology launched the DS218 NAS providing media streaming, file sharing, and data backup features in a desktop form factor. It's a 2-bay NAS equipped with a 64-bit quad-core processor delivering sequential throughput at over 112 MB/secs reading and 112 MB/sec writing. It comes with 2GB DDR4 memory, four times the capacity of its predecessor. DS218 is optimised for 10-bit 4K H.265 video transcoding via Video Station.
WDC's 96-layer 3D NAND chip (BiCS4 technology) is a single-stack design, according to Wells Fargo senior analyst Aaron Rakers, and a pair of 48-layer chips stacked one above the other. ®