This article is more than 1 year old
Peak NAND? Not yet. Not if you're ogling Micron's moneybags
Biz is DRAM happy for now – though 3D XPoint not as perky
Memory and flash maker Micron posted great quarterly results following booming demand for its mobile, server and SSD products – a sign of what it is hoping is an enduring market change.
The memory and flash maker said revenues in its first fiscal 2018 quarter were $6.83bn, 71 per cent up on a year ago, and 10.8 per cent up on the quarterly compare. GAAP net income was $2.68bn, compared to $180m a year ago and $2.37bn a quarter ago.
Charting its quarterly results shows a six-quarter growth trend.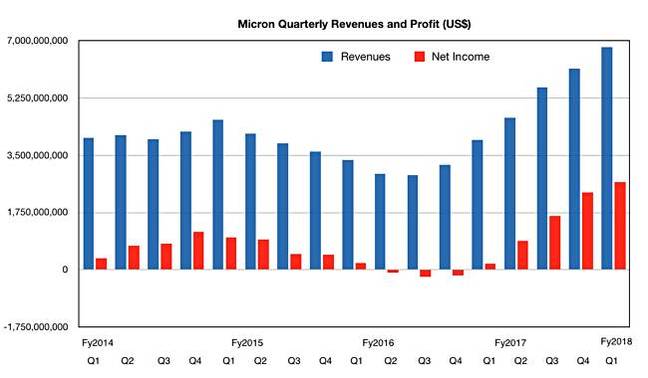 Micron quarterly revenue and net income history
President and CEO Sanjay Mehrotra said: "Micron's strong results were driven by double-digit sequential revenue growth in mobile, server and SSD applications, with expanded gross margins and improved profitability."
In the earnings call he said the results HAD "demonstrated the company's continued strong execution, a market environment that reflects the strategic importance of memory and flash storage and healthy supply and demand fundamentals".
He said there was strong demand in cloud and traditional enterprise data centre markets, solid DRAM growth in compute, record mobile revenue, and growth in home automation, edge computing devices, autonomous driving and graphics.
CFO Ernie Maddock said:
The Compute and Networking Business Unit reported FQ1 revenue of $3.2bn, up 13 per cent sequentially and more than double year-ago levels ... driven by increasing server memory content
Storage Business Unit revenues increased 7 per cent sequentially to $1.4bn, driven by strong growth in SSD sales. On a year-over-year basis, revenues were up 61 per cent driven by increasing market share in SSDs ... with double-digit sequential growth across Consumer, Client and Enterprise and Cloud markets
The Mobile Business Unit reported $1.4bn in revenue, up 16 per cent sequentially and up 32 per cent year-over-year
The Embedded Business Unit reported revenue of $830mn in FQ1, in line with the prior quarter and up 44 per cent year-over-year
3D XPoint
But 3D XPoint technology has not been a strong growth area.
Mehrotra said: "Historically, Micron's efforts on 3D XPoint have been largely focused on technology development and early manufacturing ramp, but given our increased focus on high-value product solutions, we have recently resourced a product development team to address the opportunity ahead of us."
About time too. Also Micron has "the opportunity to sell our 3D XPoint output to our partner [Intel] as this market develops".
We might wonder if XPoint, which fills a price-performance gap between fast and costly DRAM and slower and cheaper NAND, will cannibalise DRAM and NAND sales? Customers that buy a number of XPoint chips/drives may buy fewer DRAM chips and NAND chips/drives as a result.
This might provide a negative incentive to aggressively develop XPoint product sales.
Secular flash and DRAM demand rise
Micron will focus on technology transitions in DRAM and NAND, and revenue share growth in 2018, and think about expanding manufacturing capacity in 2019 and beyond.
Micron could be set for a prolonged rise in revenues so long as it keeps cranking out cutting-edge DRAM and flash. Servers, phones, desktops and notebooks need more memory and flash as disk retreats from primary storage and QLC flash becomes a stronger bet for fast secondary storage replacement.
Mehrotra said the PC flash drive attach rate in calendar year 2017 was about 35 per cent and should rise to 75 per cent in 2020. There is "a lot of HDD that is still to be replaced with SSDs... Autonomous vehicles in the future are projected to have about 40 gigabyte of DRAM content in them... They will also drive NAND flash usage."
Flash capacity per server was 2.5TB in 2017 and should be 8TB by 2021, with average DRAM capacity per server of 145GB in 2017 and rising to 350GB in 2021.
He said he believed "this is really a secular trend here in front of us in terms of driving continued usage of memory and storage".
Boom and bust
But the DRAM and NAND semiconductor industry has swung from boom to bust in the past as it over-builds in response to demand and transitions from price-rising shortages to price-dropping gluts. Will it be any different this time? Or is the need for mobile device memory and disk replacement so enduring that the glut period has been postponed for the foreseeable future?
Micron doesn't foresee a glut era coming – why would it – instead saying the DRAM and NAND demand changes are secular, i.e. enduring. That means other DRAM and NAND suppliers should be telling us similar stories in the coming quarters. ®