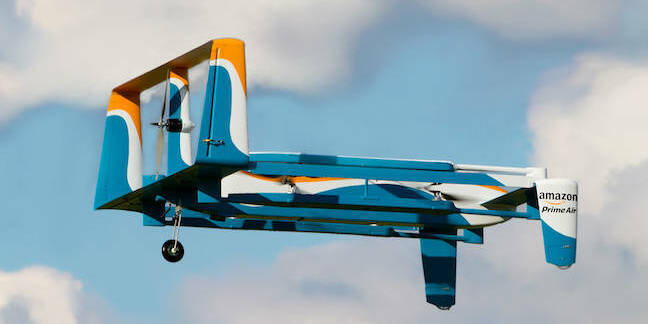 America's aviation watchdog, the FAA, has put forward a plan for how delivery drones will be governed.
The federal regulator's rule-making committee on Tuesday issued a report [PDF] that is a key milestone in the adoption of delivery drones in the Land of the Free.
The UAS Identification and Tracking Aviation Rulemaking Committee (ARC) report, issued in September but only revealed publicly this week, outlines the red-tape the FAA is likely to adopt for drone aircraft tasked with delivering stuff to people.
The recommendations include requirements that all delivery drones be equipped with tracking hardware that would allow each delivery copter to be identified. Operators would also be required to publish (to the FAA) details on the technology they use to track and relay instructions to the drones.
Other requirements recommended in the report include airspace management rules (such as operating below 2,500 feet and away from airports, sports events, and landmarks) and a "Trusted Operator System" that would exempt some commercial drone operators that use the craft for security and surveillance.
The idea, said FAA officials, is to lay a groundwork for rules that will open the skies to pizza, taco and parcel delivery drones and other commercial unmanned craft.
"Overall, the ARC provided the FAA with a substantial amount of useful data, including very detailed technology evaluations and a comprehensive list of law enforcement needs and preferences," the FAA said.
"The ARC's recommendations and suggestions, which are fully detailed in the report, cover issues related to existing and emerging technologies, law enforcement and security, and implementation of remote identification and tracking."
The rules come as package delivery companies and retailers, most notably Amazon, continue to develop both the craft and infrastructure needed to do home and office deliveries via drone aircraft. In September, the Bezos Bunch undertook their first live drone delivery, dropping off a package in Cambridge, UK.
That demonstration saw a drone loaded by a human helper then directed to a target outside the recipient's house. The craft operated and under 400 feet, and was limited to carrying parcels that weighed less than five pounds.
Back in America, the committee's report this week is just a set of recommendations – they have yet to be formally signed off by the regulator. ®
Sponsored: How to simplify data protection on Amazon Web Services