This article is more than 1 year old
Facebook folds fake news flag: We're not disputing that
No flowers for 'Disputed' tag's grave. No dancers either. Nobody noticed really
A year after deciding to fight fake news with a "Disputed" flag – backed, we were assured, by an army of fact-checkers – Facebook has decided it doesn't work, and will instead apply tweaks to how "Related Content" is handled.
The "Disputed" flag came into being last December, less than a month after Mark Zuckerberg declared fake news didn't matter.
The approach let people report suspected hoax stories, which would then get punted to fact-checkers to assess whether the "Disputed" mark was warranted.
The only problem? It didn't change clicks through to articles carrying the flag.
If that process sounds excessively manual, given Facebook's devotion to the power of the algorithm, you may be right: in discussing the demise of "Disputed", news feed product designer Jeff Smith (writing with co-authors Grace Jackson and Seetha Raj) blamed a dearth of fact-checkers as one of the problems with the flag.
Since the flag depended on two assessments, Facebook found the process slow, and sometimes, it couldn't happen at all.
"This is particularly problematic in countries with very few fact-checkers, where the volume of potentially false news stories and the limited capacity of the fact-checkers made it difficult for us to get ratings from multiple fact-checkers," Smith wrote.
Other problems with flagging fake news included needing "too many clicks" for users to work out why a story was flagged; flagging would sometimes backfire, entrenching rather than changing peoples' opinions – and the flag only applied to articles that both fact-checkers decided were false.
Related stories to the rescue!
Smith's post hints that the problems emerged almost immediately: "In April of this year, we started testing a new version of Related Articles that appears in News Feed before someone clicks on a link to an article."
So far, the fact-checkers aren't being written into a shiny new AI. Since August, fact-checked articles began landing in the Related Articles section as well, an approach Smith reckons is more effective since it "led to fewer shares of the hoax article than the disputed flag treatment".
Here's the kind of warnings users will get if they're about to repost Breitbart or Infowars suspect stories, as shown below. Before publishing, posters are gently informed: "Sometimes different news sources show conflicting perspectives on the same story. You can check out additional reporting from independent fact-checking sites." They are then presented with alternative sources.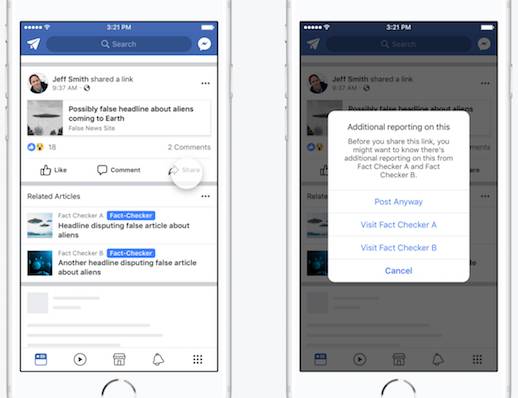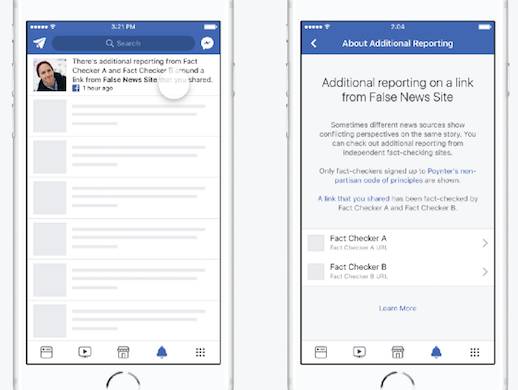 We're seeing a pattern here: the "fake news flag" was announced late in the pre-Christmas cycle in 2016, and abandoned in a similar take-out-the-trash dead zone. So we'll guess that the new approach will be taken for a long drive in the country some time after December 17, 2018. ®