We would like to take this opportunity to apologize to the residents of Puerto Rico, and especially those who will not have cell phone coverage over Christmas.
It is, we are ashamed to admit, entirely our fault.
This is a special time of year, and we feel dreadful for robbing more than 500,000 Puerto Ricans of the opportunity to contact their friends and loved ones.
If it's of any consolation, we didn't mean to. In fact, we had hoped to do the opposite.
It all started when we noticed a commissioner of the US telecoms regulator, the Federal Communications Commission (FCC), complaining that her organization was not doing enough the get the island back online after it was devastated by the deadly Hurricane Maria in September.
Jessica Rosenworcel also called for hearings into the US government's efforts to get telecommunications back up and working – something that has been done repeatedly in the past following disasters and other big events in order to learn valuable lessons for the future.
For some reason, the FCC refused to hold any hearings. And many felt that there was an unpleasant undercurrent of racism in the failure of the US federal government to throw all its resources at the problem – as it has done just weeks earlier in Texas when a hurricane hit that mainland state.
President Trump certainly offended Puerto Ricans by diminishing the enormous impact of the storm on their island – a US territory – by criticizing the mayor of San Juan who was on the frontline of recovery efforts, for downplaying the number of people killed. Plus he threw paper towels at drenched people – which was a bit odd. And then there was the peculiar case of a very small company being granted a very large contract to get its infrastructure back up and running.
At the FCC, its chairman Ajit Pai – who has closely aligned himself with President Trump – appeared to reflect this attitude, and paid little attention to Puerto Rico's plight, ignoring criticism of the slow state of recovery, and Rosenworcel's calls for hearings.
Restoration
On November 14, Rosenworcel tweeted: "[It's been] 54 days since Hurricane Maria hit Puerto Rico. Forty per cent of the cell sites remain out of service. This is an unprecedented loss of communications. It deserves an unprecedented response from the FCC. But to date no hearings, no report, no date by which service will be fully restored."
Rosenworcel had been complaining for several weeks about the FCC's efforts around Puerto Rico, even issuing formal statements and criticisms [PDF].
So we dug into the – daily – FCC reports from Puerto Rico, and decided to plot a graph charting the gradual rebuilding of the wrecked island's cell phone coverage using the official figures. When the storm hit the US territory, virtually ever mobile phone mast was smashed or otherwise stopped working. Nearly two months later, around a third remained useless.
The rebuild was progressing steadily. The rate at which cell towers were being repaired and restored to working condition was strikingly consistent. The number of broken cellular sites fell each day by just over one per cent and made for a very straight line.
So we extrapolated that line with some fancy maths, and pointed to December 17 as the final day on which Puerto Rico would be fully back online.
We checked back yesterday to see if we were right, and found out something had gone wrong – rather than zero per cent of cell sites offline, the latest FCC figures [PDF] from December 20 show a 14.4 per cent rate.
So we dug back in and noticed something very peculiar: literally one day after we published our analysis mid-November, the FCC went from reporting the cell tower restoration figures every day – seven times a week – to reporting three days out of seven.
Switch
The FCC had been sending daily reports from September 21 up to our story on November 14. We published our article after the FCC had closed its doors for the day, meaning that the first time it would have been viewed by the regulator was November 15.
On November 16, the FCC suddenly switched – with no explanation or reasoning that we have been able to find – to reporting on Mondays, Wednesday and Fridays, rather than every day.
And, unfortunately, as anyone who has ever worked in a large organization looking to make steady progress will tell you, a regular reporting requirement is one of the most effective drivers that exists.
Literally the day that the FCC stopped reporting on a daily basis, the graph shifted. The daily improvement fell from an average of 1.02 per cent to an average of 0.71 per cent per day: a productivity drop of 30 per cent.
The result is the final day for full cell site coverage has shifted from December 17 to January 10 – encompassing the full holiday period. Don't believe us? Here is a graph showing exactly what happened, and we have put all the figures in a spreadsheet so you can check our math.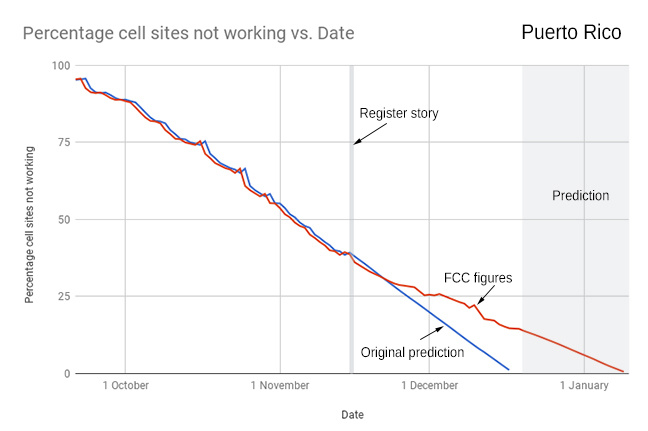 Not what we wanted to see ... Sorry, Puerto Rico
Now this could, of course, all be a wild coincidence. We published a report putting a spotlight on obscure FCC figures held within individual PDF documents, and the next day for completely unrelated reasons, the watchdog decided that the best thing it could do to help Puerto Rico was to cut back on the number of weekly reports from 7 to 3.
Pai
After all, FCC boss Ajit Pai is not the sort of guy to act purely for political reasons, or out of potential embarrassment. And he most definitely does not care what others think of him.
He has thick skin, that's for sure. If there's one thing we've learned through the net neutrality issue, it's that Ajit Pai doesn't crave praise and positive attention. [Just checking, this is sarcasm, right? – ed.]
It could also be completely unrelated that the moment those daily reports were cut back that the repair crews on the ground had a harder time restoring service. That the moment they were not required to file daily progress, they hit an area of the island that was much harder to fix than any other.
That is all very possible.
But then so are a lot of things. So, again, sorry Puerto Rico, our effort to hold the powers-that-be to account backfired. In the up-is-down world of the FCC currently, criticism for not doing enough leads to even less being done.
Sorry you can't say Feliz Navidad and Feliz Año Nuevo to friends and family over the phone this year. Tell them in January it was our fault. ®
Similar topics