Judge rm -rf Grsecurity's defamation sue-ball against Bruce Perens
Linux code fortifier is told people are entitled to opinions
---
Linux kernel security biz Grsecurity's defamation lawsuit against open-source stalwart Bruce Perens has been dismissed, although the door remains open for a revised claim.
In June, Perens opined in a blog post that advised companies to avoid Grsecurity's Linux kernel security patches because it might expose them to claims of contributory infringement under the Linux kernel license, GPLv2.
Grsecurity then accused Perens of fearmongering to harm the firm's business, and sued him in July.
On Thursday, the judge hearing the case, San Francisco magistrate judge Laurel Beeler, granted Peren's motion to dismiss the complaint while also denying – for now – his effort to invoke California's anti-SLAPP law.
SLAPP stands for Strategic Lawsuit Against Public Participation, and describes legal complaints aimed at silencing public discourse and free speech. In 1992, California passed its anti-SLAPP statute to provide a defense against such legal bullying. Many other states and countries have similar laws.
In addition, Beeler denied Grsecurity's motion for summary judgment, which amounts to asking the judge to agree that the facts are so clear a ruling can be rendered without a trial.
"The court holds that Mr Perens's statements are opinions that are not actionable libel, dismisses the complaint with leave to amend, denies the anti-SLAPP motion without prejudice, and denies the motion for summary judgment," Judge Beeler ruled.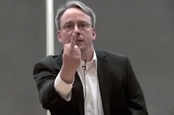 Linus Torvalds slams 'pure garbage' from 'clowns' at grsecurity
READ MORE
The judge found that Perens, who is not a lawyer, voiced his opinion about whether the Grsecurity licensing terms violated the GPLv2 and no court has established whether this is so.
"Thus, his 'opinion' is not a 'fact' that can be proven provably false and thus is not actionable as defamation," Judge Beeler said in her order.
She also found Grsecurity's business interference claim lacking because its defamation claim fails. In other words, expressing an opinion alone does not amount to intentional commerce disruption.
Although Grsecurity may try again, if it can frame a more robust claim, the judge's order makes clear that doing so brings risks. Her denial of Peren's anti-SLAPP motion "without prejudice" allows Perens to reintroduce that claim, which could happen whether Grsecurity lets the matter go or amends its complaint. And she makes clear that she believes Perens would probably prevail under California law.
"[T]he court has difficulty seeing how the present claims can elude California's anti-SLAPP statute," she said. "Mr Perens's statements were made in a public forum and concern issues of public interest, and the plaintiffs have not shown a probability of prevailing on their claims."
In an email to The Register, Rohit Chhabra, founder of the Chhabra Law Firm and Grsecurity's attorney, said: "While it is unfortunate that the court did not agree with us, this is certainly not the end of it." ®