This article is more than 1 year old
Long Island Iced Tea Corp renamed itself to Long Blockchain – and its shares went bananas
Shift in focus spikes drink biz
Logowatch This special edition of El Reg's Logowatch isn't strictly about logos, rather it's a rebrand, but since today is Friday and this news is – and this is a technical term here – batshit mad, we couldn't pass it up.
Non-alcoholic beverage slinger Long Island Iced Tea Corp, which is publicly traded and wasn't performing particularly well financially, decided to rename itself this week to Long Blockchain – and its share price soared 289 per cent.
On Thursday, its stock was cruising along at $2.45 apiece. On announcing the name change and a baffling new love for blockchain technology, the price rocketed to $9.49. That figure has since settled down, now to $6.91 at time of writing.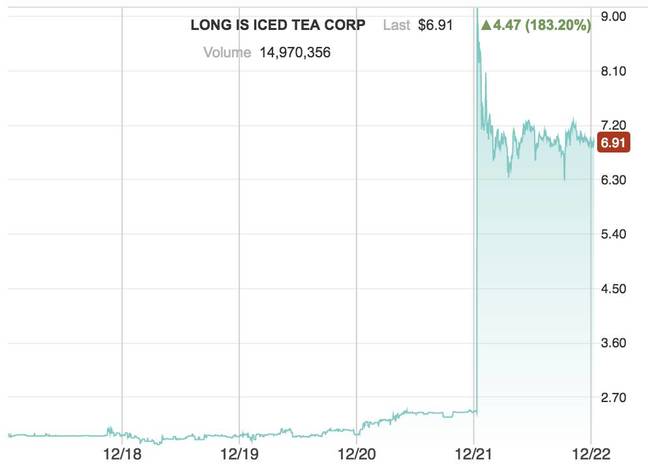 Gulp! LTEA's stock soars on cyni, er, brilliant renaming decision
Source: NASDAQ
Here's the excu, er, innovation explained by the biz, which is based in the US state of New York and has so far this year lost $12m from sales of $4m:
Long Island Iced Tea Corp. today announced that the parent company is shifting its primary corporate focus towards the exploration of and investment in opportunities that leverage the benefits of blockchain technology. In connection with the shift in strategic direction, the Company has approved changing its name from "Long Island Iced Tea Corp." to "Long Blockchain Corp." and has reserved the web domain www.longblockchain.com.
The Company intends to request Nasdaq to change its trading symbol in connection with the name change. The Company will continue to operate Long Island Brand Beverages, LLC as a wholly-owned subsidiary and maintain the focus of this business on the ready-to-drink segment of the beverage industry, specifically, premium, 'better-for-you' brands marketed at an affordable price.
You'll notice the biz will keep brewing and shipping its twee non-alcoholic beverages. It's just going to unashamedly jump onto that ol' blockchain bandwagon. Sorry, correction: unashamedly pivot onto that ol' blockchain bandwagon.
It's no different to companies that, back in the day, would glue an e- or cyber or cloud to their name or products in order to look up-to-date, cool, and with it even if they didn't know what "it" was.
The move just caps off a bonkers year in which the world has gone slightly mad over blockchain technology and all the stuff based on it – notably crypto-currencies. Bitcoin has rocketed in value to somewhere around $15,000 for 1 BTC. Meanwhile, Etherum is hovering around $900 per alt-coin, and Dash is pegged at about $1,200, to name only three.
It's not just drinks being spiked. Biotech outfit Bioptyx rebranded itself to Riot Blockchain, and tobacco biz Rich Cigar and e-cigarette upstart Vapetek also announced they were transmogrifying into blockchain experts, and all three enjoyed share price leaps, for example.
And as we noted just last month, the rather generically named Brit biz On-line repainted itself as On-line Blockchain – and its share price quadrupled.
There are no bubbles in iced tea. Which is just as well because, right now, we've got a massive one staring us in the face. ®