This article is more than 1 year old
Storage Christmas cracker: My band is called 1023MB. We haven't had a gig yet
Last 2017 roundup: Death Star file protection crap, Samsung DRAM miracles and more
Here's a final collection of storage news before Christmas 2017. Imagine you are having Christmas dinner and you get a bunch of crackers. Pull them and, instead of fortune cookie statements and bad jokes, this list of news items tumbles out.
My, how much richer your Christmas dinner would ... we'll go away now.
Comtrade
Comtrade Software's Subbiah Sundaram, VP products, and Goran Garevski, VP engineering, both gazed into their crystal balls for 2018.
Hyperconverged Infrastructure (HCI) and unifying file and object storage – we are already beginning to see customers actively incorporating file and object storage as part of their HCI investments and expect it to continue well into 2018 and beyond.
Broader adoption of cloud automation – we see infrastructure platform vendors make cloud style automation part of the base platforms and think about how to make it easy to adopt automation. This will drive significant adoption in 2018.
Machine learning and predictive analytics have been in existence in the academic community and in the CTO labs for a while. Now they are becoming embedded into mainstream applications.
The emergence and importance of the private cloud admin/enterprise cloud admin.
Do more with less – CIOs need to seriously rethink how to not just consolidate within a silo, but how to eliminate silos altogether.
Darth Nasuni
This file sharing and cloud storage supplier ran a spoof Star Wars-style video at a showing of The Last Jedi, saying that the Imperial forces had a crap battle station file sharing and protection policy. They needed Darth Nasuni or somebody like that. The cringe is strong with this one.
Here's the video link: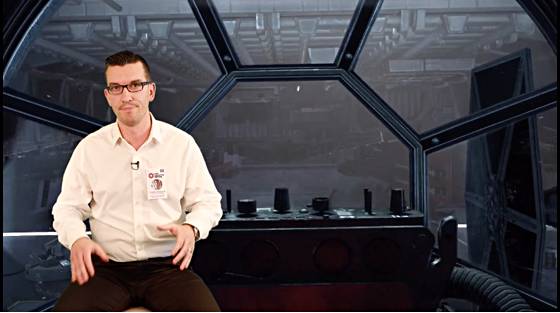 Click image to run the video
DCIG
Jerome Wendt of DCIG thinks two long-standing storage assumptions are being challenged by two new ones. The old assumptions were:
The IT infrastructure stack consists of a server with its own CPU, memory, networking, and storage stack (or derivations thereof) to support it
The best means of protecting data stored in that stack is done at the file level
The new challengers are based on hyperconvergence:
Hyperconverged infrastructures will become the predominant way that organisations will deploy, host, and manage applications going forward
Data protection will predominantly occur at the volume level as opposed to the host level
Check out his thinking here.
Rubrik
Another set of 2018 predictions:
Next year, we will see an Armageddon when it comes to delivering cloud services directly to the enterprise. The three major cloud providers have picked their dance partners – Azure with Azure Stack, GCP with Nutanix, and AWS with VMware – to see who can deliver their portfolio of services to disrupt on-prem deployments across private data centres and clouds.
Right now, we're only just scratching the surface when it comes to the cloud tools of which operations teams are taking advantage. Soon, those will become ubiquitous both in cloud and on-prem with Kubernetes becoming the clear winner across the industry. As more complexity is removed and governance added to this open source tool, adoption will skyrocket.
Businesses will face a GDPR shake-up as they make changes to stay compliant. Businesses will be looking for resources to help them make changes to their data strategies, and will be seeking out solutions to effectively index and make their data searchable – to help them meet this mandate.
Right now, AI and machine learning are basically out of reach for most within the enterprise, except for data scientists. In order to bring AI and machine learning to more business users, organizations will need to implement a sound cloud data management strategy to put all of their data in one location for users to organize, analyze and prepare for AI/machine learning applications.
Samsung
Samsung has begun mass producing the industry's first 2nd-generation of 10-nanometer class (1y-nm), 8-gigabit (Gb) DDR4 DRAM.
It features an approximate 30 per cent productivity gain over the company's first-generation 10nm-class 8Gb DDR4. The new 8Gb DDR4's performance levels and energy efficiency have been improved about 10 and 15 per cent respectively, with new and proprietary circuit design technology.
Thirdly, the new 8Gb DDR4 can operate at 3,600 Mbit/sec compared to the 3,200 Mbit/s of the company's previous 1x-nm 8Gb DDR4.
Customers
Hyperconveged secondary storage supplier Cohesity says that the Verizon subsidiary XO Communications is using Cohesity as for its secondary storage system. It says XO Communications has lowered its data centre TCO by 60 per cent due to Cohesity's high capacity and small footprint – 100 TB of raw storage per 2U appliance – and ease of management, which requires fewer administrators.
People
Eric Carter has resigned as senior director of product marketing at Hedvig, and joined Sysdig as director of product marketing. New year, new job in effect.
Shorts
Awingu announced a technology relationship with Barracuda Networks. It brings together Barracuda's firewall with Awingu's turnkey, browser-based workspace product, facilitating the deployment of Awingu in hybrid cloud environments.
Germany-based Paragon Software has released APFS for Windows Preview, a driver enabling Windows users to access Apple File System (APFS) volumes on PCs' APFS-formatted HDDs, SSDs, or flash drives.
APFS is Apple's proprietary new file system released with macOS High Sierra. It replaces Mac OS Extended (HFS+) as the default file system.
Paragon has also released an update to Microsoft NTFS for Mac, a software utility that grants transparent read/write access to Windows-formatted NTFS hard drives, SSDs, and thumb drives under macOS. It has improved support for macOS 10.13 High Sierra in conjunction with the latest update from Apple.
Download and install Paragon APFS for Windows Preview from here.
+RegComment
It has been a wonderful storage year, packed full of technology and business developments, rises, falls, acquisitions, startups and exits. We here at The Register's storage desk wish everyone a great Christmas and all the best for the New Year.