Mobile network EE has had a poor start to 2018 – their customer service data centre has been down since yesterday.
According to the company, their engineers have identified and are working to solve the problem, but have yet to fix it by the time of writing. The server in question deals with the online "MyEE" webpages, customer phone line, and allows users to monitor their data usage, pay bills, order upgrades and perform other basic functions. The issue did not affect its mobile and wired networks.
Online comments, however, revealed the frustration of EE's customers, who were unable to top up pay-as-you-go phones, report handsets stolen after New Year's Eve misadventures, or pay their phone bills.
Twitter user @HannahLucass said: "My phone has been stolen New Year's Eve, and I need to get it blocked asap before I can go through my insurance but how am I suppose to do that when your lines are down??"
Forum poster Nigel5 said: "I need to check and pay my bill which is due now but I have no way of doing either at all! It's as though EE is dead and that's what my phone line will be soon unless I can pay my bill."
On its community forum, administrator "Miles" apologised for the inconvenience, and assured customers that EE's engineering teams were working hard to solve the problem.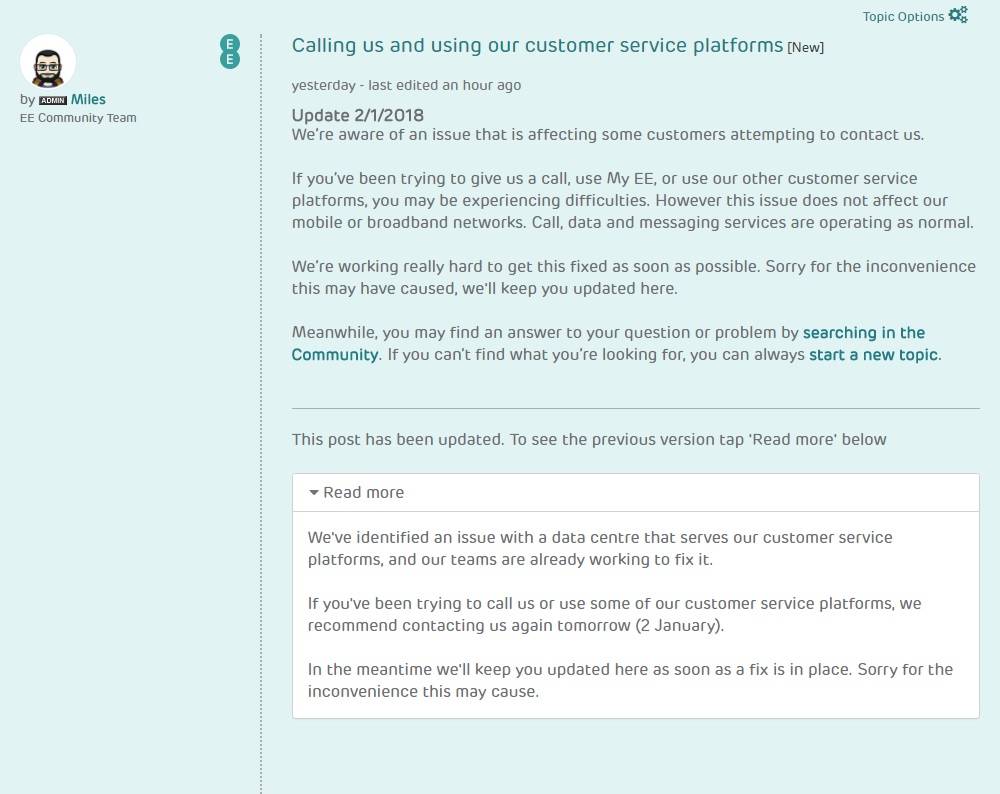 EE's forum post responding to the outage
The Register has contacted EE for comment. ®
Updated to add 16:24
EE have confirmed the site is back up. A spokesperson said: "We've now resolved a technical issue that prevented us from being able to help many of our customers on the phone and online. We have restored full service and are able to help customers on the phone, online and in our stores as usual. We'd like to thank our customers for their patience while we worked to fix the issue, and we're sorry for any inconvenience this may have caused."
Similar topics