This article is more than 1 year old
Brazil says it has bagged Royal Navy flagship HMS Ocean for £84m
Four years ago Brit taxpayers spent £65m doing her up
The flagship of the Royal Navy, HMS Ocean, has been sold to Brazil for £84m, the South American country's government has confirmed.
The 22,000-tonne helicopter carrier, which returned from her last British deployment to the Caribbean just weeks ago, will be formally decommissioned from the RN in spring this year.
Although it was well known that Ocean was up for sale and that Brazil (as well as Turkey) were interested in buying the 20-year-old warship, confirmation of the deal and the purchase price were all "known unknowns" until now.
The news was broken by defence blog UK Defence Journal, citing a Brazilian journalist.
The Brazilian Navy's end-of-year roundup statement, published on Christmas Eve 2017, also included the line: "Minister Raul Jungmann and the Brazilian Navy Commander Eduardo Bacellar Leal Ferreira took the opportunity to announce the purchase of the Royal Navy's HMS Ocean multifunction vessel, valued at £84m sterling."
A British Ministry of Defence spokesman told El Reg: "Discussions with Brazil over the long-planned sale of HMS Ocean are at an advanced stage, but no final decisions have been made. HMS Ocean has served admirably with us since 1998 and the revenue she generates will be reinvested in defence as we bolster our Royal Navy with two types of brand new frigates and two huge aircraft carriers."
In 2012 Ocean was given a two-year, £65m refit, extending her life by three years. While this refit cycle could potentially continue for more years to come, the MoD simply doesn't have the budget to keep her in service – especially as ever more machinery on the hard-worked old ship needs deep maintenance or replacing.
Selling the ship gives a net benefit to the taxpayer over the last three years alone of £20m, which (very approximately) covers the running costs of two frigates for one year. The longer-term financial benefits will be felt by not having to stump up the £12m annual running cost (see "LPH Ocean Class") of the ship herself.
Sunset of the 'Mighty O'
Built for £150m in the mid-1990s and commissioned in 1998, Ocean has a dual role as an amphibious landing ship and a helicopter carrier. Her primary purpose in times of war is delivering a unit of Royal Marines to wherever in the world they are needed, whether by using helicopters flying from her large, flat deck, or landing craft operating from her midships davits and her stern ramp.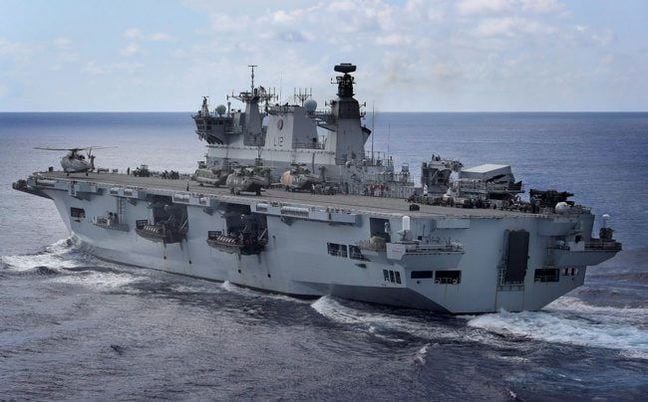 HMS Ocean on her last deployment to the Caribbean. Note landing craft hanging from the davits; the stern ramp is folded up in this picture. Crown copyright/LPhot Kyle Heller
Some controversy surrounded her build costs, with one of the bidders being accused of submitting an artificially low bid in order to win. Nonetheless, the ship was built to civilian standards, something which not only made her cheaper but also gave her a shorter expected service life than most British warships.
It is expected that Ocean will undergo a comprehensive refit in the UK to Brazil's specifications before she departs for a new life under a new name.
The old helicopter carrier has just been supplanted as the RN's sole flat-top by HMS Queen Elizabeth, the new F-35 aircraft carrier. Though Big Liz will eventually become a capable warship in her own right, she was not designed as an amphibious warfare vessel; the ability to deliver large numbers of British personnel onto a potentially hostile shore now rests solely with the two dedicated Albion-class warships, only one of which is ever in service at any given time. ®