Data centre mergers and acquisitions hit $20bn in 2017 feeding frenzy
All-time high for industry
---
The temperature is rising in the hot aisle for data centre businesses – $20bn was spent on mergers and acquisitions last year.
Synergy Research Group data says the 2017 total doubled the figure from the year before, which itself was well up on 2015.
There was almost one significant M&A deal closed each week on average in the year.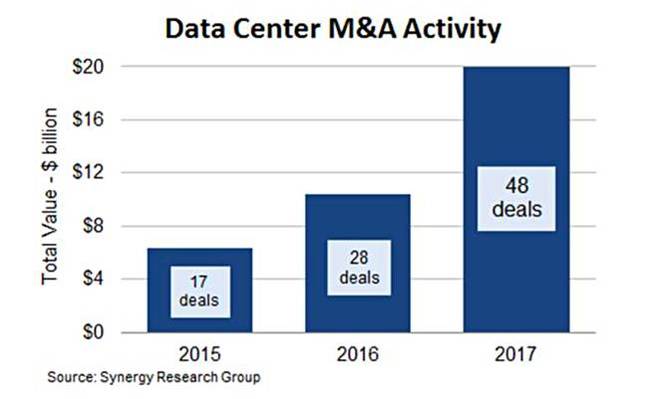 Digital Realty spent $7.6bn acquiring DuPont Fabros in the largest deal of the year. Equinix, Cyxtera, Peak 10 and Digital Bridge all bought other suppliers in deals valued at a billion dollars or more.
Another 12 deals were in the $100m-$1bn range, and 31 smaller ones were each valued at up to $100m.
The two main acquirers were Digital Realty and Equinix, who combined accounted for more than 50 per cent of the M&A deal value in 2017. Equinix made acquisitions in all four regions of the world, while Digital Realty concentrated on the USA and Europe.
How do these two relate to the rest of the data centre business suppliers?
Cloudscene's data centre operator ranking shows there are 20 or more leading suppliers and that Equinix is bigger than Digital Realty: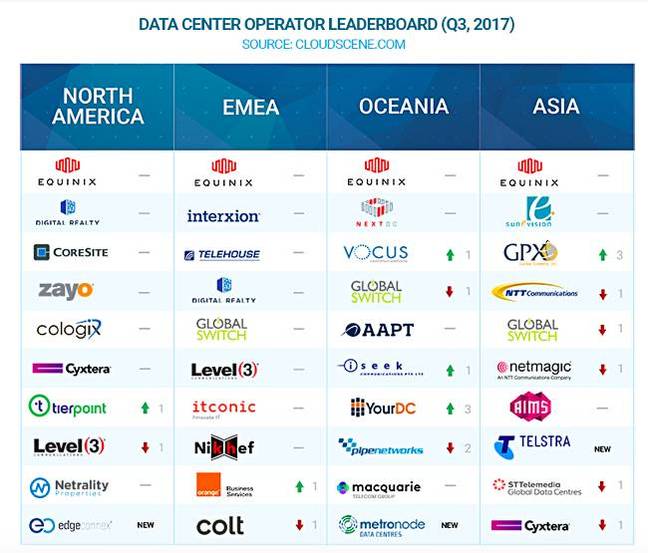 Q3 2017 data centre operator rankings
Why is it happening?
We can imagine data centres are data processing power stations. Typically the bigger the power station organisation, the lower its unit costs and the larger its geographic coverage.
Synergy Research Group's chief analyst and research director, John Dinsdale, said: "Above all else, what is driving the data centre M&A activity is enterprises focusing more on improving IT capabilities and less on owning data centre assets. That shift is driving huge growth in outsourcing, whether it is via cloud services, or use of colocation facilities, or sale and leaseback of data centres.
"The dramatic growth of cloud providers is also driving changes in the data centre industry, as data center operators strive to help them rapidly increase scale and global footprint."
There's no reason to suppose that data centre M&A activity will stop. The bigger are going to get bigger still. "We expect to see much more data centre M&A over the next five years," Dinsdale added. ®