This article is more than 1 year old
Samsung topples Intel as semiconductor top dog, but lead 'literally built on sand'
Sure about that?
Gartner beancounters say price rises driven by memory shortages propelled Samsung into the lead based on semiconductor vendor revenue, vaulting past Intel and its CPUs.
Gartner research VP Andrew Norwood said: "The largest memory supplier, Samsung Electronics, gained the most market share and took the No. 1 position from Intel – the first time Intel has been toppled since 1992. Memory accounted for more than two-thirds of all semiconductor revenue growth in 2017, and became the largest semiconductor category."
DRAM prices rose 44 per cent from 2016 to 2017, and NAND flash prices went up 17 per cent year-over-year for the first time.
A Gartner table provides the numeric nitty-gritty:

Charting the revenues gives a quick insight into the relative vendor positions: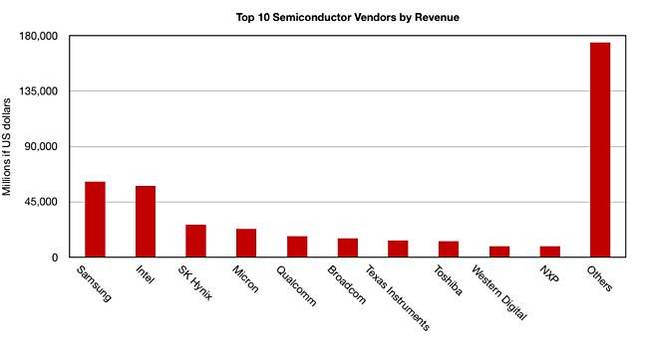 Samsung and Intel revenues outstrip those of any other single vendor. What's also noticeable is that the "Others" category is way larger than any single vendor amount.
All the flash vendors saw good revenue growth rates in 2017, with Western Digital standing out with its 120 per cent rise.
Norwood suggests Samsung's lead over Intel might be short-lived: "Samsung's lead is literally built on sand, in the form of memory silicon. Memory pricing will weaken in 2018, initially for NAND flash and then DRAM in 2019 as China increases its memory production capacity. We then expect Samsung to lose a lot of the revenue gains it has made."
Qualcomm plans to buy NXP this year and Broadcom is trying to buy Qualcomm. If that succeeds, a Broadcom-Qualcomm-NXP combination would likely take a number two slot, according to Norwood.
"The combined revenues of Broadcom, Qualcomm and NXP were $41.2bn in 2017 – a total beaten only by Samsung and Intel," he said. "If Broadcom can finalise this double acquisition and Samsung's memory revenue falls as forecast, then Samsung could slip to third place during the next memory downturn in 2019." ®