This article is more than 1 year old
Wait! Before you fire up that HP lappy, check the battery
New year, new recall – like the one in 2017, 2016, 2013, 20...
HP Inc has issued a "worldwide voluntary safety recall" of its laptop models due to potentially fiery batteries, with over 50,000 affected machines in the US and Canada alone.
The announcement applies to batteries in 15 models of laptop sold globally between December 2015 and December 2017, as well as any replacements or spares bought from HP or their authorised suppliers.
The US Consumer Product Safety Commission's page on the recall noted eight reports of "overheating, melting or charring", three involving a total of $4,500 property damage, and one of a first-degree burn to a user's hand.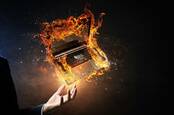 HP Inc recalls 101,000 laptop batteries before they halt and catch fire
READ MORE
Most of the offending batteries are internal, and can't be replaced by users, so HP decided to provide free battery replacements by their authorised technicians.
The company has also released a BIOS update with a "battery safety mode", which will make the laptop discharge the battery and only function when plugged in until the mode is disabled. HP "strongly recommends" that users with affected laptops download and activate the safety mode. Its recall site offers a downloadable utility that will check for the presence of a recalled battery in a device if the user is unsure.
HP has a bit of an unfortunate habit when it comes to battery recalls. The last happened just shy of a year ago for models sold in the US, Canada and Mexico using Panasonic-made batteries.
Then there was the one in 2016, the one in 2013 for HP's Chromebook micro-USB chargers, the one in 2011, the one in 2010, the one in 2009, the one in 2008, the one in 2006 (plus an additional recall of digital cameras with fire-causing firmware), and one in 2005.
A spokesman told The Register the recall affected just 0.1 per cent of HP systems sold globally over the last two years (although it declined to give a figure that the percentage related to). He added that HP had identified one of their suppliers as the source of the bad batteries, and was taking immediate action. ®