Already replete with sharks, crocodiles, snakes and poisonous jellyfish galore, Australia may also be home to arsonist birds that spread fire so they can feed on animals as they flee.
The belief that birds like the Whistling Kite, Black Kite and Brown Falcon spread grass fires goes back so far that it's commemorated in indigenous ceremonial dances, according to Bob Gosford, a co-author of this paper in the Journal of Enthnobiology.
The paper posits that the behaviour isn't accidental: "Most accounts and traditions unequivocally indicate intentionality on the part of three raptor species and a handful provide evidence of cooperative fire-spreading by select individuals from within larger fire-foraging raptor assemblages", it notes.
And while the researchers' main interest was to confirm and document those stories, Gosford told Vulture South the research is also important to understanding how fire spreads in Australia.
"This may give us cause to re-examine fire history, and the conduct of fire in this country," Gosford said.
Researchers watching how bushfires and grassfires propagate have only looked at two factors, lightning and people, he said; a third vector changes "what we understand about how fire travels in this country".
Gosford said his interest was sparked by passages in I, The Aboriginal, a 1963* book by journalist Douglas Lockwood in which Northern Territory Alawa man Waipuldanya (aka Phillip Roberts) related fire-spreading raptors.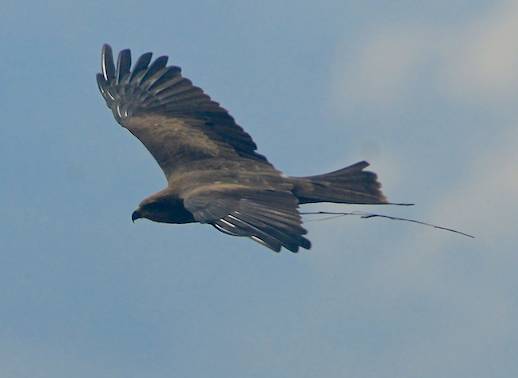 Black kite, one of the species suspected of using fire as a foraging tool. Image: Bob Gosford
More research and interviews "piqued my interest further", Gosford said, leading ultimately to the paper, in which Aboriginal rangers and others document the pyromaniac raptors.
As the paper notes, raptors in Central Australia foraging ahead of fires to catch critters fleeing the flames (as well, of course, as scavenging bodies afterwards) is well documented.
The idea that raptors spread fires so they can hunt is less-well documented. "There's scepticism about this – lets get some non-Aboriginal people to see if they observed it," Gosford said.
As well as further interviews, two co-authors of the paper, Dick Eussen (of Tropical Australian Media) and Nathan Ferguson (of the Northern Territory Fire and Rescue Service) have also observed the fire-spreading.
That raises the obvious question: is it intentional, or are the birds accidentally taking burning sticks from one place to another?
"Our belief … is that it's intentional," Gosford told Vulture South – partly because there's a growing body of work identifying surprising intelligence in other avian species such as parrots. ®
*Correction: Originally, this article put publication of I, the Aboriginal as 1952, a typo now corrected.
Similar topics
Broader topics