Backup and security biz Barracuda made the largest profit it has seen in more than three and a half years in its third fiscal 2018 quarter, its last as a public company.
Revenues were $94.7m, up 7 per cent year-on-year and $400,000 on a quarterly basis. Net income was $7.8m, compared to the previous quarter's $1.6m.
Subscription revenue grew to $77.3m, up 13 per cent from $68.3m a year ago, representing 82 per cent of total revenue, and shrinking appliance revenue was $17.5m, compared with $20.5m a year ago.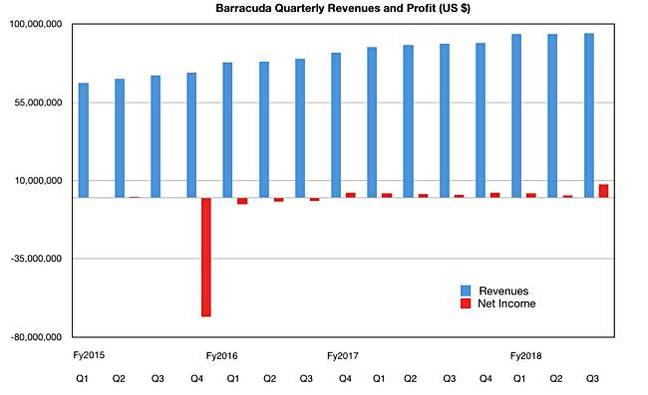 Last-minute profit hike to impress private equity buyers?
The number of active subscribers grew 16 per cent to over 360,000 as of November 30, 2017. The annualised renewal rate from subscriptions on a dollar basis was 101 per cent.
Barracuda is being bought by private equity firm Thoma Bravo for $1.6bn. The deal is scheduled to close before the end of February.
PhishLine, a SaaS platform with data analytics and reporting to protect against hackers, was bought by Barracuda on January 3.
CEO BJ Jenkins said: "Combining the power of the Barracuda security technologies with PhishLine's capabilities gives us the opportunity to deliver integrated, adaptive security training aimed at preventing email security threats."
This is curious as companies heading for private equity ownership often wait for the new owners to set about reshaping and galvanising the company. Yet this acquisition follows that of cloud archiver Sonian, which was announced in the same month, November last year, that Barracuda revealed it was going private.
Thoma Bravo must have been aware of both deals and approved them. It's a good augury for a fast development pace at Barracuda inside Thoma Bravo, which is getting an actively expanding company and not a distressed wreck.
PhishLine's 15 employees will join Barracuda. The deal cost was not disclosed, but we think it's less than $10m. ®