This article is more than 1 year old
FBI says it can't unlock 8,000 encrypted devices, demands backdoors for America's 'public safety'
Where there's a will, there's a Wray
FBI Director Christopher Wray has picked up where he left off last year with a new call for backdoors in encryption exclusively for law enforcement.
Speaking at the International Conference on Cyber Security in New York today, Wray complained that in the past year the Feds have seized 7,775 devices that they can't unlock and decrypt. He said the situation was ridiculous, and called on the technology industry to find a solution. Essentially, let Uncle Sam's g-men decrypt data stored on devices on demand, while still somehow keeping stuff secure against hackers and other crooks, he argued.
"Being unable to access those devices is a major public safety issue and impacts our investigations across the board," he said. "This problem will require a thoughtful and sensible approach. We have people devoted to working with stakeholders to find a way forward. We need the private sector's help."
He claimed that the problem was impeding cases involving human trafficking, counterterrorism, organized crime, and child exploitation.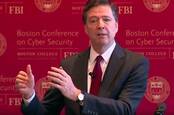 FBI boss: 'Memories are not absolutely private in America'
READ MORE
Wray said the FBI was undergoing a digital revolution to deal with the increased investigations into electronic devices. He likened it to the kind of reorganization the agency went through after the September 11 terrorist attack.
Now, he claimed, there are cyber task forces in every FBI field office, and there are national cyber action teams who can be deployed at a moment's notice. Too bad they aren't that good at their jobs, and occasionally miss their chance to unlock devices without resorting to federally mandated backdoors.
"The FBI has to recognize that that there's a technology and digital component to almost every case we have," he said. "Transnational crime groups, sexual predators, fraudsters and terrorists are transforming the way they do business as technology evolves."
What Wray wants is a secure form of encryption that contains a flaw that only law enforcement can find and exploit. Trouble is, scumbags will no doubt find and leverage it, too. The FBI boss's predecessor James Comey also had an obsession with effectively weakening citizens' security. Comey constantly complained that criminals were "going dark" using encryption.
The problem for the FBI, and others of a similar mind, is that there isn't some rainbow unicorn software solution to implementing a cops-only backdoor in secure end-to-end or storage encryption. The finest minds in cryptography – and the NSA – are united on this score. It's mathematically impossible to introduce an encryption backdoor that only law enforcement can find and use. ®