Seagate's CES splash, ClusterStor-like dash and Ripple crypto-cash
Bumps out new array and brags about quarterly results
---
The number-two disk drive supplier is starting 2018 at a gallop with a dense, ClusterStor-like array, a raft of consumer drives at CES and upgraded estimates for its first-quarter results.
Seagate's 5U84 drive enclosure and operating system provide up to 1PB of capacity in a 5U chassis (8PB/rack) with 84 x 3.5-inch bays, supporting 8, 10 and 12TB SAS disk drives – or SSDs.
The Advanced Distributed Autonomic Protection Technology (ADAPT) disperses data across multiple drives. It makes the enclosure effectively self-healing, Seagate claims, because it eliminates up to 95 per cent of performance degradation during a disk drive rebuild compared to existing RAID rebuild methods. This should mitigate the risk of having a second drive fail while the rebuild process from an initial drive failure is ongoing.
Seagate's old ClusterStor array line had GridRAID, which split data into tiles that were written to – striped across – different drives to cut rebuild times.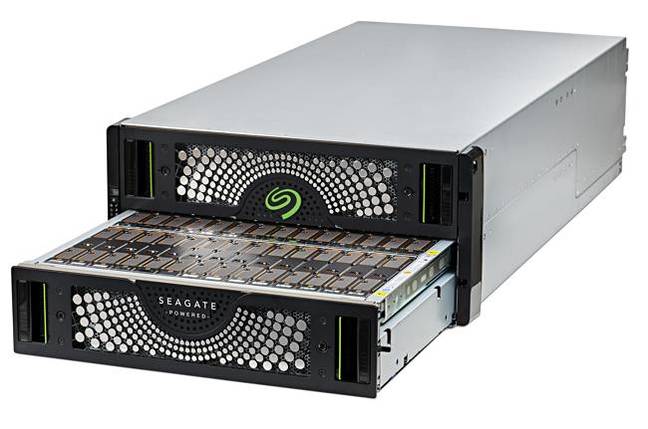 Seagate's 5U84 enclosure has two 42-bay drawers
This 5U84 system has no brand name at all, can expand to 336 drives, meaning four 5U84 enclosures in a... what? Shall we call it a cluster? Hey, we could call it a cluster store.
No details of the OS are provided but we suspect ClusterStor OS functionality has been used as a basis.
The array, with a ClusterStor-like bezel, comes from Seagate's Systems business unit. VP Ken Claffey said the OS allows multiple cores to share the workload as specific processing tasks are distributed to individual cores, with a surveillance company for example, having fast access to data intelligence and insight, allowing them to make informed, real-time decisions.
In other words, Seagate is enabling some compute to be located with the storage, and OEMs/SIs would provide software to take advantage of this.
The HPC ClusterStor business went to Cray last year, which set up a strategic partnership with Seagate. An aspect of this is that Cray will integrate future Seagate technologies into Cray storage products, so we might see the 5U84 appearing in a Cray ClusterStor-branded system.
This 5U84 chassis looks even more interesting as 14TB and greater capacity drives come down the pike. If Seagate ships 20TB HAMR drives then we have the prospect of 1.68PB in the 5U and 13.4PB in a rack. Seagate's multi-actuator technology would also play a role here, upping the disk IO rates.
The drives are hot-swappable and the system has a 12Gbit/s SAS setup and dual controllers. Seagate says it offers 600k IOPS at 1ms latency with a 2U24 all-flash array configuration, meaning it implicitly has a 2U x 24-slot alternative enclosure. Nothing is being said about NVMe drives or NVME fabric access.
The disk-based IOPS number or bandwidth aren't provided.
CES
The flock of products at CES include:
LaCie DJI Copilot – this 2TB device is for drone aircraft fliers providing backup of drone-recorded imagery via direct file transfer from an SD card so users can playback, copy and manage their drone footage from their mobile device. It has a $349 street price and spring ship date.
Joy Drive – this has 1TB capacity and is available in China with a street price of 660 CNY ($99). It enables Android phone/tablet users to access videos and other content without any Wi-Fi or cellular service.
Fast SSD – portable flash drive with 250GB, 500GB and 1TB capacities, up to 540MB/sec transfer rates, shock-resistance, USB-C connectivity, spring ship date, and a US street prices of f $99, $169 and $349 respectively.
LaCie Rugged Secure – the orange-padded cover drive now has hardware encryption using Seagate Secure technology. Disconnection from a host computer will cause the contents to be encrypted with password access required to see the data. The US street price is $139 for 2TB and it's another spring shipper.
Seagate-Adobe Partnership provides limited-time, no-cost access to Adobe's latest applications bundled with Seagate and LaCie drives – two complimentary months of the "Adobe Creative Cloud All Apps plan".
Prelim quarterly results
Revenues in Seagate's second fiscal 2018 quarter are expected to hit $2.9bn where $2.74bn had been expected. Why the relatively good news? There was stronger nearline/high-capacity enterprise HDD demand, and better-than-expected sales of both enterprise fast access drives and consumer drives. Happy Christmas selling season, Seagate!
Wells Fargo senior analyst Aaron Rakers said Seagate's total capacity shipped during the quarter reached a record 88 exabytes (+29 per cent year-on-year) with about 40 million drives shipped. It was 39.9 million a year ago.
Lastly, not-always-reliable SeekingAlpha says Seagate may own almost $8bn of the stock in XRP cryptocurrency company Ripple. Happy, HAPPY Christmas, Seagate – if true. ®