Research firm IDC has rated and ranked the all-flash array players, placing Pure Storage in the lead of its Marketscape, ahead of Dell, HPE, NetApp and IBM.
The marketscape is a one-box market player ranking diagram (rather than the magic four-boxer of Gartner), with four curved-edge and nested segments running down and leftwards from the top right.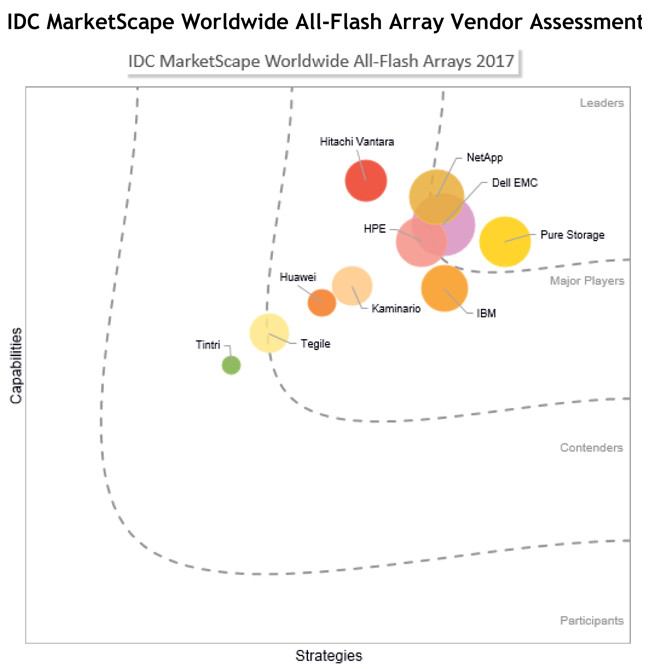 They are labelled "Leaders", "Major Players", "Contenders" and "Participants".
Eric Burgener, a research director at IDC, said: "The all-flash array (AFA) market has undergone significant maturation over the past two years and the most differentiation between vendors was noted in their future-looking strategies, how they track and manage the customer experience, and how they handle technology refresh cycles."
Pure is placed in the lead by the analysts because it has strategies in NVMe, cloud-based predictive analytics, customer experience, and technology refresh (with the Evergreen Storage program) that made the difference for the company.
The three other leaders – HPE, Dell EMC and NetApp – were each similar in terms of capabilities.
In the "Major Players" section, IDC's researchers said:
Hitachi Vantara with a 100 per cent availability guarantee, was rated for its reliability,
Kaminario got plaudits for its blend of scale-up and scale-out capabilities and NVMe-over-Fabrics-based composable storage strategy,
IBM has its FlashCore custom flash modules in several AFA products,
(Now WDC-owned) Tegile was credited for its pricing models.
IDC said "Contender"-ranked Huawei had comparable functionality to the others but exhibited more conventional thinking in its telemetrics, customer experience, and technology refresh approaches.
Tintri had the strongest virtual machine–aware offering across all vendors, differentiating it in terms of ease of use, said IDC.
Fujitsu did not make the cut for this marketscape with its ETERNUS all-flash arrays, as it had functionality similar to the other vendors but lacked in the customer experience management, cloud-based predictive analytics and technology refresh areas, said the analyst. ®
Sponsored: Webcast: Simplify data protection on AWS