Boeing's revealed it hastily-cobbled-together a cargo drone.
The "cargo air vehicle" (CAV) has a payload of 226kg (500 pounds). The aerospace giant has revealed the craft is powered by battery, boasts eight counter rotating blades and is 4.57 meters long, 5.49m wide, 1.22 meters tall and weighs in at 339 kilograms.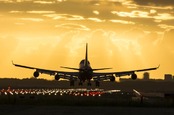 Boeing's 747 to fly off the production line for the foreseeable future
READ MORE
Boeing's said nothing about speed or range, so it's hard to assess whether the prototype will be decent competition for conventional transport. Measuring "payload fraction", by dividing a craft's payload mass by its overall mass, suggests the craft will offer favourable performance compared to conventional aircraft. The CAV's fraction is 66 per cent, rather better than some cargo aircraft. The payload is also orders of magnitude greater than the UAVs flow by Google and Amazon, suggesting Boeing's targeting its usual commercial and defence customers rather than would-be-operators of book-delivery drones.
The company's announcement said the CAV was built in just three months, using tech it acquired in 2017 when it bought Aurora Flight Sciences.
Boeing said the prototype is destined to serve as a testbed for future cargo drones, alongside efforts to figure out just how to get fleets of autonomous aircraft integrated with other commercial flights. ®