This article is more than 1 year old
Uncle Sam's treatment of Huawei is world-class hypocrisy – consumers will pay the price
Wait. Did you say 'insecure chips'?
Comment Let no one say that America's political elites are losing their talent for hypocrisy. Washington DC has welcomed the New Year with a display of selective Sinophobia – and it likely spoiled Huawei's CES.
The vendor was expected to announce its first major American wireless carrier win this week, with US network AT&T distributing and promoting the Mate 10 Pro phablet. But its deal with the carrier collapsed as US lawmakers demanded a probe of the partnership. This comes over five years after Huawei, along with fellow Chinese firm ZTE, was named in an innuendo-laden 2012 Congressional report.
The US's guardians of security seem content to allow the United States' consumer electronics to be made in China, in conditions of great secrecy. The country also welcomes the Chinese state-owned ZTE even after the latter admitted busting sanctions imposed on Iran and North Korea. That's all forgiven now, apparently.
But Huawei, which has gone to great lengths to share its workings with Western intelligence agencies, finds itself hobbled.
The AT&T deal was scotched, according to The Information, after members of the US Senate and House intelligence committees wrote to the FCC.
Espionage fears have prevented Huawei, the world's number-one LTE equipment vendor, from supplying US networks, but it had been free to strike deals for its handsets. So far, it has had success with smaller MVNOs, such as MetroPCS.
What about other countries?
The rest of the world has no such qualms these days. For Huawei to be permitted to sell crucial infrastructure in the UK market, a classic face-saving compromise was devised. Huawei would give full access to its source code to GCHQ experts in a clean-room environment. It was examined, and pronounced clean.
ZTE, meanwhile, lost its Tier 2 Visa sponsorship in the UK last year. Ties to China's Communist Party were cited. Of the two, one has rather closer ties than the other: the Chinese state owns ZTE.
(Huawei was found guilty of industrial espionage last year – not state espionage.)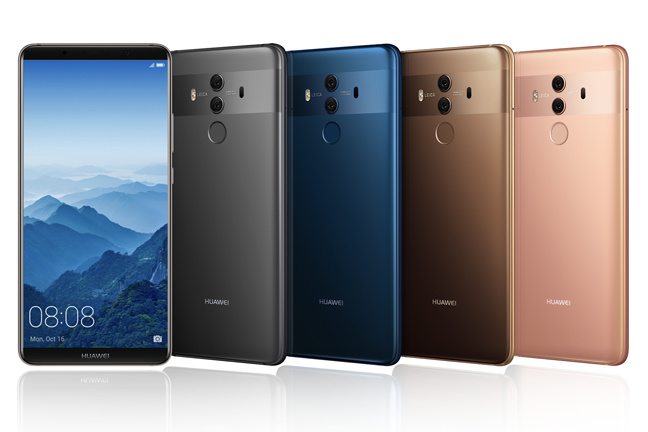 Security concerns forced AT&T to cancel a deal to carry Huawei's Mate 10 Pro
US-eh?
As for the AT&t smartphone deal collapse, potential backdoors in chips have been cited as the reason why Huawei, a private (employee-owned) operation is unwelcome, while ZTE and other Chinese mobile manufactures are permitted. Huawei uses its own Kirin ARM designs, while the others use American or Taiwanese chips.
This jars for two reasons. Firstly, after last week, we know just how secure American chips are. If the security of US infrastructure is of concern to lawmakers, they should start closer to home.
And secondly, defining what is a "Chinese" chip and what is an "American" chip is increasingly difficult. Qualcomm and Intel have both invested heavily in China. Intel has had heavy investments in Fab 68 in Dalian, and its assembly sites in Chengdu, and has embarked on several co-operative efforts. Qualcomm has been clobbered by the Chinese regulators, but won't give up.
It's not market science...
This is protectionism by other means. By pressuring customers, Congress avoids explicit measures that would be illegal under the WTO framework.
The Committee on Foreign Investment has been killing deals left, right and centre, and perhaps this is just another gesture. The Trump administration blew into office vowing to tear up trade deals, and explicitly targeting China. Congress loathes Trump and, unlike the President, elected representatives are wise enough to appreciate the complexities of global supply chains. But underneath they're just as into it.
All of this after AT&T had acquired some Huawei LTE kit and pronounced it "excellent". Huawei's phablet represents a competitor to high-priced models from Apple and Samsung. How convenient for those two giants.
The American consumer will pay in a poorer market without Huawei. ®